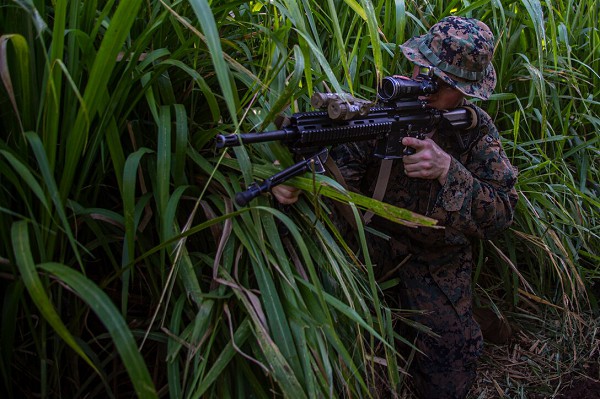 Marine Corps Base Hawaii, HI. (October 1, 2022): In this photo by Lance Corporal Jacob Wilson, Marine Lance Corporal Brendan Kelly, a rifleman with Alpha Company, 1st Battalion, 3rd Marine Regiment sights in his weapon while on patrol during a company-wide jungle warfare competition in the mountains of Oahu. America has over a century experience fighting in jungles from the South Pacific to Viet Nam and has learned many lessons on adapting to its harsh conditions.
Marine Corps Base Hawaii, HI. (October 1, 2022): The daily life of an infantry soldier in Viet Nam was often determined by the skies above. There are only two seasons in Southeast Asia, dry and wet. For soldiers in the jungle, the "dry" season meant oppressive heat, stifling humidity, and never-ending thirst and fatigue. On a typical day, a "grunt" gets up before dawn, saddles up a 70-pound pack, and then hikes ten hours through mountainous jungle in one hundred plus degree heat. The constant moisture affected both man and machine as many weapon systems failed in jungle conditions , often eliminating America's technological advantage.
Next came the monsoon season which stretched from May through September bringing over 190 inches of rain and plenty of misery for troops in the field. Ordinary cuts or sores developed into Jungle Rot; a persistent infection aggravated by wet conditions that turned soldiers' feet red causing painful lesions that took weeks to heal. As tough as the Vietnamese enemy was, weather also took a terrible toll on American forces.
Today's jungle warriors are trained in scenic Hawaii, though one doubts if any soldiers who experienced the Jungle Operations Training Course (JOTC) will call it a vacation destination.
The school is operated by the Army's 25th Infantry Division (Tropic Lightning) whose performance in the jungles of Viet Nam were legendary. The 15-day JOTC course teaches individual skills such as survival, communications, and navigation in the dense terrain surrounding Schofield Barracks. Students live in the jungle around the clock learning to build shelters, move through thick vegetation or across water obstacles.
For even the most seasoned soldiers, the course is a serious test of mental and physical stamina. The JOTC hosts eight classes per year and approximately 40 percent do not finish. The 25th Division drew upon jungle training courses at the Marines' Jungle Warfare Center in Okinawa, Japan and from schools in Australia and Brunei. As the only JOTC operated by the U.S. Army, the school hosts subject matter experts from Cambodia, New Zealand, Great Britain, and Malaysia.
Soldiers who survive the training return to their units as jungle experts.
American servicemembers train in hazardous conditions all over the world to defend our nation. As you read about these brave men and women deployed overseas, please consider showing your support by contributing funds to Support Our Troops' Patriot Brigade®. Here you will join thousands of patriots who make monthly donations to pay for comfort items and recreational programs for our military deployed overseas. Please go to our secure website https://supportourtroops.org/donate to contribute to America's finest today!