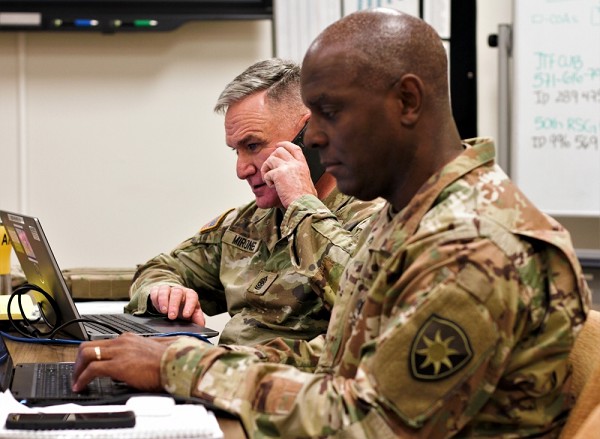 Homestead, FL. (October 1, 2022): In this photo by Sergeant First Class Shane Klestinski, Army Sergeant Major Gregory Henson, right, and Lieutenant Colonel Craig Henson of the 50th Regional Support Group make final plans for deploying Florida National Guard units to respond to Hurricane Ian. Thousands of well-disciplined troops deployed to the hardest hit counties, something these troops are eager to do.
Homestead, FL. (October 1, 2022): They have families and homes. They own businesses and are respected members of their community. They also have dedicated a significant part of their lives to helping their neighbors and their nation in times of crisis.
When Hurricane Ian slammed into Florida's west coast last week, most of those affected by the storm had little time to think about the Florida National Guard and its role responding to civil emergencies, but the Guard already had them in their sights.
Take the 50th Regional Support Group (RSG), for example. Days before the storm hit, the Florida Guard's senior leaders were already meeting to order deployments of critical personnel to areas where they would be needed the most. Critical relief supplies, ranging from fresh water to thousands of gallons of fuel, were pre-positioned to be available immediately after the storm subsided. Based in Homestead, Florida, the 50th RSG has several subordinate commands, each with its own specialty in relief operations. All these assets are coordinated through the state's Emergency Operations Centers that are the home base for the National Guard's response efforts.
Florida National Guard missions include search and rescue, managing distribution points to disperse needed supplies, and working with the Federal Emergency Management Agency (FEMA) to assess storm damage.
At Support Our Troops, one of our primary missions is to educated fellow Americans about their military and the fine deeds they do for their neighbors and their country. Won't you consider showing your support for our Guard and Reserves by contributing funds to Support Our Troops' Patriot Brigade®. Here you will join thousands of Americans who make monthly donations to pay for comfort items and recreational programs for our National Guard and Active-Duty military deployed overseas. Please go to our secure website https://supportourtroops.org/donate to contribute to America's finest today!