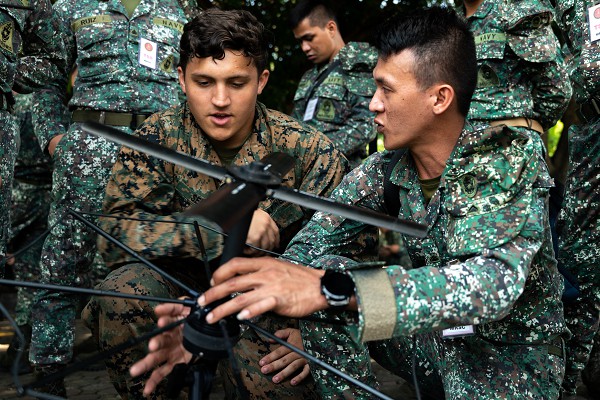 Fort Bonifacio, Philippines. (October 12, 2022) In this photo by Corporal Ujian Gosun, Marine Corporal Brandon Sell, a radio operator with the 3rd Marine Division, practices using a Mini-Secure Communications Controller with Philippine Marines. This secure communications device can simultaneously connect with many distinct types of allied radios, even cell phones. American and Filipino Marines are participating in Kamandag exercises or "Cooperation of the Warriors of the Sea," to strengthen interoperability, trust, and cooperation built over decades of shared experiences.
Fort Bonifacio, Philippines. (October 12, 2022): It is one of the oldest military alliances in our history, a brotherhood of two nations that shed blood for each other. From General McArthur's famous pledge to return to rescue the Filipino people from the clutches of the Japanese to facing down China today, America and the Philippines have a bond lasting generations.
The U.S./Filipino alliance is being tested anew as the Chinese aggressively pursue territorial disputes in the South China Sea. China has asserted historical claims against the Philippines, Brunei, Malaysia, Indonesia, Viet Nam, and Taiwan to dominate the region. Facing these threats is the Filipino Armed Forces that includes an Army ground force estimated at 90,000 soldiers backed by 120,000 ready reserves. The Air Force has an estimated 17,000 personnel and operates 203 aircraft, the Navy has around 25,000 members.
The U.S. and Filipino militaries are working to strengthen cooperation and interoperability of their equipment and tactics. Nothing demonstrates this collaboration better than the bilateral Kamamdag or "Cooperation of the Warriors of the Sea" exercises involving 2,550 U.S. and 630 Filipino Marines.
These maneuvers include a combined live-fire exercise featuring Marine aircraft and High Mobility Artillery Rocket Systems (HIMARS), as well as amphibious landings along the island's coasts.
This year, America's contribution to Kamamdag are elements of the famed 3rd Marine Division whose mission is to counter any adversarial actions against the U.S. 7th Fleet and our allied partners in the South China Sea. The 3rd Marines are one of America's most storied units having fought at Guadalcanal, Bougainville, Iwo Jima, and most recently in Iraq and Afghanistan. These exercises underscore the strength of the U.S. bond with the Filipino people, a friendship that has lasted generations.
Marines, like these, stand on the front lines of freedom around the world. Please consider showing your support by contributing funds to Support Our Troops' Patriot Brigade®. Here you will join thousands of patriots who make monthly donations to pay for comfort items and recreational programs for our military deployed overseas. Please go to our secure website https://supportourtroops.org/donate to contribute to America's finest today!