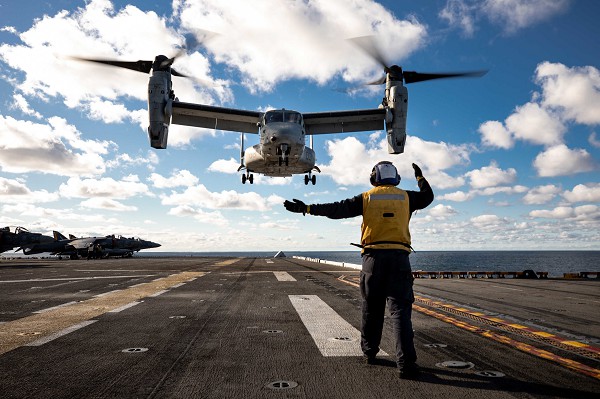 Baltic Sea. (October 12, 2022): In this photo by Corporal Yvonna Guyette, a U.S. Marine Corps MV-22 Osprey assigned to the 22nd Marine Expeditionary Unit (MEU) approaches the flight deck during flight operations aboard the Wasp-Class amphibious assault ship USS Kearsarge. The 22nd MEU is on a scheduled deployment to U.S. Naval Forces Europe to support the Sixth Fleet defending American and allied partners in the Baltic Sea.
Baltic Sea. (October 12, 2022): Since Russian President Vladimir Putin ordered the illegal and immoral invasion of Ukraine, NATO forces have poured into the European theater. The American response to any escalation by the Russians will be spearheaded by the 22nd Marine Expeditionary Unit (MEU), an air/ground task force of over 2,200 Marines and Navy personnel.
Based at Camp Lejeune, North Carolina, the 22nd MEU is one of the most decorated units in the Marine Corps with extensive combat experience in Iraq and Afghanistan. The 22nd MEU is carried into battle by the sailors of the USS Kearsarge Amphibious Ready Group, a naval armada that includes the San Antonio-Class dock landing ship USS Arlington, the Whidbey Island-Class amphibious ship USS Gunston Hall, and the Arleigh Burke-Class guided missile destroyer USS Paul Ignatius. Since its activation in 1982, the 22nd MEU has been awarded two Joint Meritorious Unit Awards, four Navy Unit Commendations, five Meritorious Unit Commendations and the Marine Corps Expeditionary Streamer with two stars.
One of seven Marine MEUs, the 22nd employs the workhorse MV-22 Osprey (pictured above), the first aircraft designed from the ground up to meet the needs of all four U.S. armed services. Built by Boeing and Bell Helicopter Textron, the Osprey can take off and land vertically like a helicopter and, once airborne, convert to a turboprop airplane capable of high-speed, high-altitude flight. This tiltrotor aircraft can transport assault troops and cargo, conduct search and rescue operations, and can even serve as an aerial refueling tanker. The combination of these elite Marines and the Kearsarge Readiness Groups provide a potent first response for American commanders should Russia be foolish enough to attack.
We are truly blessed to have such elite warfighters standing at the ready, no matter the nature of the threat. Please take a moment, right now, to show your support for America's finest by contributing funds to Support Our Troops' Patriot Brigade®. Here you will join thousands of patriots who make monthly donations to pay for comfort items and recreational programs for our military deployed overseas. Please go to our secure website https://supportourtroops.org/donate to contribute to America's finest today!