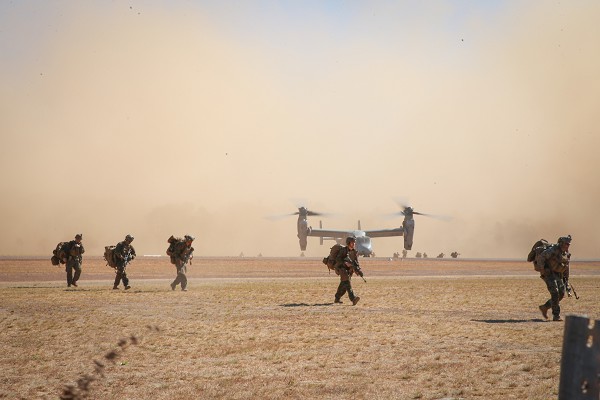 South Goulburn Island, Australia. (October 10, 2022): In this photo by Corporal Emeline Mola, U.S. Marines with India Company, 3rd Battalion, 7th Marines arrive in Australia ferried by Tiltrotor Squadron 268 Reinforced MV-22 Osprey aircraft. The Marines are participating in Expeditionary Base Operations exercises as part of Marine Rotational Force Darwin 22, a 25-year defense pact with one of America's oldest friends.
South Goulburn Island, Australia. (October 10, 2022): Never doubt, the Aussies have always had America's back. Australian servicemembers have fought alongside U.S. troops in both World Wars, Korea, Viet Nam, Iraq, and Afghanistan shedding their blood for the cause of freedom. In these tense times, the Americans want Australians to know that we will be a reliable ally should they need us.
This is why the U.S. 7th Marine Regiment routinely deploys to Australia's Outback from Kaneohe, Hawaii on a rotating basis to train with Aussie Marines. Dubbed the "Magnificent 7th , this Marine regiment defended Australia from invading Japanese forces in World War II. In 1942, the regiment landed on the Solomon Islands to fight the Battle for Guadalcanal, a four-month slug fest fending off fanatical Japanese defenders, repulsing their Banzai charges and suicidal attacks. It was during these battles that Lewis Burwell "Chesty" Puller, probably the most famous Marine in history, won the first of five Navy Crosses. He would retire a Lieutenant General after a thirty-seven-year career and remains the most decorated Marine of all time.
By January 1943, the majority of Marines from the Magnificent 7th suffered from malaria, wounds, and just plain fatigue. The regiment arrived in Australia to rest and retrain, not for a liberty call, yet a grateful Australian population gave the regiment a hero's welcome. The seventh went on to fight at New Guinea, New Britain, Peleliu, and the Island of Okinawa, Japan.
America is fortunate to have a reliable ally like Australia as we confront threats from China in the Indo Pacific. American servicemembers are lucky to have patriots, like you, to support them while they are deployed overseas. Please take a moment, right now, to show your support for America's finest by contributing funds to Support Our Troops' Patriot Brigade®. Here you will join thousands of Americans who make monthly donations to pay for comfort items and recreational programs for our military deployed overseas. Please go to our secure website https://supportourtroops.org/donate to contribute to America's finest today!