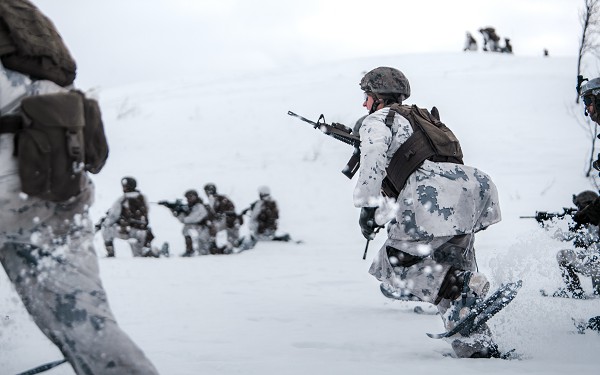 Blatind, Norway. (October 15, 2022): In this photo by Corporal Patrick King, U.S. Marines with Marine Rotational Force Europe buddy rush down range during a company live fire attack as part of Exercise Arctic Littoral Strike. These exercises focus on regional engagements in arctic and mountain warfare as America prepares to defend Europe against Russian aggression.
Blatind, Norway. (October 15, 2022): Since 1825, America and Norway have enjoyed a close and mutually beneficial relationship that continues today. The two nations fought together in World War II and the Norwegians are co-founders of both the United Nations and NATO. Norwegian troops deployed trainers to Iraq to support America in Operation Inherent Resolve and they provided training and advice alongside American troops in Afghanistan.
Since 2017, Norway has hosted annual rotations of U.S. Marines to train in extreme cold and in mountainous terrain with the Norwegian Armed Forces. This arrangement has become even more vital as NATO confronts potential aggression from the Russians after their invasion of Ukraine. American military planners have pre-positioned armored vehicles, ammunition, and basic supplies in Norway to facilitate the rapid deployment of Marines in an emergency.
With over 1,600 miles of coastline, Norway presents an ideal training ground for Marine Corps Littoral Strike Forces operating in northern, more frigid climes. U.S. Marines and their Norwegian counterparts train together to ensure interoperability and coordination of equipment and tactics.
As Marines endure freezing temperatures training in mountainous regions around the world, you can do your part by contributing funds to Support Our Troops' Patriot Brigade®. Here you will join thousands of Americans who make monthly donations to pay for comfort items and recreational programs for our military deployed overseas. Please go to our secure website https://supportourtroops.org/donate to contribute to America's finest today!