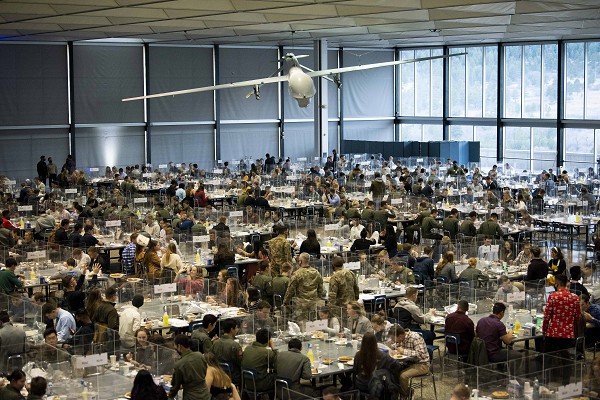 U.S. Air Force Academy, Colorado Springs, CO. (October 2, 2022): In this photo by Joshua Armstrong, Cadets fill the U.S. Air Force Academy's Mitchell Hall for Thanksgiving Dinner, many for the first time in their lives away from home. The Mitchell Hall staff prepared about 4,000 meals a festive atmosphere for the young cadets who stayed at the Academy during the Thanksgiving Holiday.
U.S. Air Force Academy, Colorado Springs, CO. (October 2, 2022): Most veterans remember their first holiday season away from home. Standing guard duty in the jungle, huddled around small fires against the cold in a frozen forest, or staring out to an endless sea, holidays are often the loneliest time for American servicemembers overseas.

Pictured above are the "cream of our youth", twenty something Cadets who volunteered to become Air Force Officers to defend our nation, clustered together for their first Thanksgiving away from home. Should they choose to make the military a career, they can expect to serve many precious holidays thousands of miles from their loved ones.
For Air Force Academy Cadets, the journey begins with six-weeks basic training at Lackland Air Force Base, San Antonio, Texas, an indoctrination program to transform them from civilians to military material. Cadets go on to a formal four-year college education at the U.S. Air Force Academy at Colorado Springs, Colorado. Graduates incur a five-year service commitment, while those attending flight schools must serve an additional 10 years after receiving their wings.
The first test for these officer candidates is the altitude, the Colorado Springs campus sits on 18, 500 acres at a breath stealing altitude of 6,000 feet. The youngest of the five service academies, the Air Force offers state-of-the-art athletic training backed up by unparalleled research facilities. With a world recognized faculty of 570, the Air Force Academy trains some four thousand recruits a year and graduates one of the most diverse officer corps in the world.
As we sit down with our families this holiday, let's not forget our active duty servicemembers deployed around the world. Please take a moment, right now, to help us send a little bit of comfort their way to boost their spirits during the holidays. Join the thousands of Americans who make monthly contributions to Support Our Troops' Patriots Brigade® to provide comfort items and recreational activities for our troops, particularly those deployed overseas, by visiting our secure website https://supportourtroops.org/donate today!