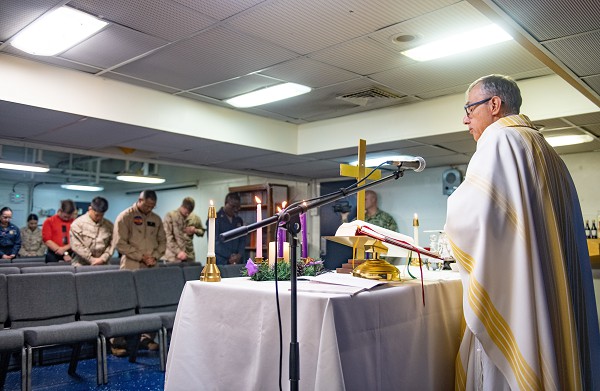 Gulf of Aden. (December 24, 2021): In this photo by Petty Officer 2nd Class Jonathan Word, Lieutenant Paul Guzman, a Catholic Chaplain deployed to Camp Lemonnier, Djibouti, performs Christmas Eve Mass for U.S. Sailors and Marines aboard the amphibious assault ship USS Essex. For thousands of American servicemembers, the holidays can be a lonely time serving far from loved ones at Christmas. Military clergy, of all denominations, are there to counsel young troops to help them cope with their first holiday season away from home.
Gulf of Aden. (December 24, 2021): They are aboard ship in a very bad neighborhood thousands of miles from home and it is Christmas Day. Even the most hardened Sailors and Marines must have sympathy for those serving their first holidays deployed overseas and the Navy has a partial solution… military clergy to help them cope.
As long as man has had armies, military chaplains have accompanied soldiers into battle, often risking their lives ministering to the wounded while under heavy fire. They are the military's expression of support for people of faith while they work to improve morale and comfort the sick or wounded. Today, some 3,000 military clergy serve on active duty backed up by another 2,000-clergy assigned to Reserve or National Guard units. The U.S. Military ensures that the five major faith groups, Catholic, Protestant, Jewish, Muslim, and Buddhist are represented and over 120 denominations.
The USS Essex is part of America's expeditionary forces operating on the horn of Africa whose mission is to provide security for Europe, Africa, and Southwest Asia. The only U.S. military installation on African soil, Camp Lemonnier sustains ships and aircraft operating in one of the worlds most troubled regions. The Base supports approximately 4,000 U.S. joint and allied military forces and civilian personnel and U.S. Department of Defense contractors. Additionally, the base provides employment for approximately 1,000 local and third country nation workers.
The tiny country of Djibouti is strategically located on the horn of Africa close to some of the world's most dangerous hot spots. Situated on the Bab el Mandeb Strait between the Red Sea and the Gulf of Aden, Djibouti sits astride the world's busiest shipping lanes. Unfortunately, terrorist organizations and human traffickers are active in the region necessitating a permanent presence by the U.S. Military.
Military clergy are a comfort to our servicemembers deployed overseas this holiday season. Won't you take a moment, right now, to help us send a little bit of comfort their way to boost their spirits during the holidays? You can join the thousands of Americans who make monthly contributions to Support Our Troops' Patriots Brigade® to provide comfort items and recreational activities for our troops, particularly those deployed overseas. Please visit our secure website https://supportourtroops.org/donate to donate to America's finest today!