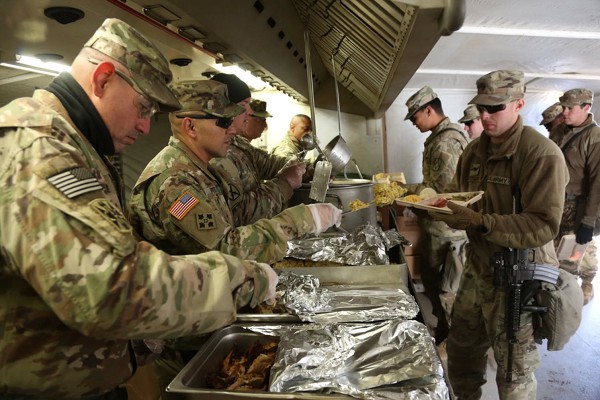 Seoul, South Korea. (November 6, 2022): It is pretty certain that Roman Soldiers complained about one thing above all… the food. Military Cooks have been on the receiving end ever since.
Despite the grumbling, troops everywhere respect the difficult job cooks do and the extra effort they make to mimic a family meal during the holidays. Believe it or not, they derive great personal satisfaction watching their comrades enjoy a meal they created.
Official designated Culinary Specialists, a military chef prepares meals for hundreds of troops a day, both in garrison and in the field. They are also responsible for keeping their equipment spotless regardless of conditions as they protect health as well as fill stomachs. After Basic Training, recruits attend The Joint Culinary Center of Excellence at the U.S. Army Quartermaster School at Fort Lee, Virginia. The entry level course graduates over 6,500 Soldiers and Marines a year, and the Army offers an Advanced Culinary Skills Training Course for leaders in the field.
Their life is not easy.
Culinary Specialists rise before dawn and are several hours into their shift when the first sleepy troop arrives for breakfast. After serving the meal, Culinary Specialists break down their equipment, wash and sanitize to spotless perfection and then begin preparing the next meal. On base, the kitchens are as well stocked as a commercial restaurant but in the field, where everything must be trucked in, the options are far more limited. A Culinary Specialist assigned to a high-speed unit like the 4th Field Artillery can expect roughing it in the field for most the year.
Despite these difficult conditions, Culinary Specialists strive to keep our forces healthy, well fed, and as happy as possible. They are often away from home and family for the holidays which can be very lonely for our servicemembers deployed overseas.
Support Our Troops has issued a national call to all good Americans to show their love and support for our deployed troops this holiday season by helping to ship Thanksgiving and Christmas Care Packages to our troops overseas. You can join the thousands of Americans who make monthly contributions to Support Our Troops' Patriots Brigade® to provide comfort items and recreational activities for our troops, particularly those deployed overseas. Please visit our secure website https://supportourtroops.org/donate to donate to America's finest today!