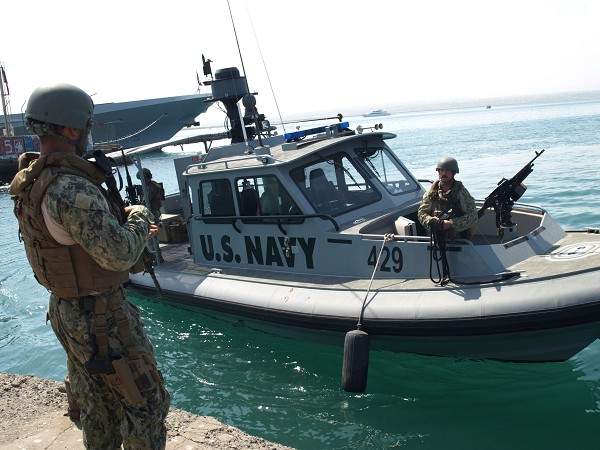 Republic of Djibouti. (November 9, 2022): In this photo by Master-at-Arms 2nd Class Perry Lafoe, Master-at-Arms 3rd Class Xavier Sierra, left, and Engineman 2nd Class Michael Shultz conduct a crew swap in port after a patrol mission. The sailors are assigned to Coastal Riverine Squadron 10 under the U.S. 6th Fleet operating on the horn of Africa. Riverine sailors like these trace their heritage to the American Revolutionary War and none other than Benedict Arnold.
Republic of Djibouti. (November 9, 2022): At the outset of the War of 1812, American commanders, including our nation's most notorious traitor, learned the British would attempt to split New England from the other colonies by seizing Lake Champlain. Anticipating the threat, none other than General Benedict Arnold led a daring pre-dawn riverine raid against the British garrison defending the St. John. Capturing a 70-ton sloop along with dozens of watercrafts and badly needed cannon and munitions, Arnold managed to stave off a British invasion.
This was one of the first of many riverine (of or related to rivers or shallow coastal waters) engagements by American forces to secure the American colonies northern flank against a well-equipped British Navy. For the outnumbered Americans, lakes and rivers would prove a challenging and costly environment to make war.
The American riverine warriors pictured above are part of the U.S. Navy's law enforcement and force protection program to protect U.S. warships in port. Coastal Riverine Squadron 10, based in Jacksonville, Florida, is tasked with protecting critical assets and supplies coming in and out of foreign and U.S. ports. Squadron 10 provides expeditionary detachments to the U.S. 6th Fleet based in Naples, Italy whose tactical responsibility includes both the European and African theaters. Typically, these sailors deploy for eight months to ports, like Djibouti, where terrorists threaten U.S. Navy vessels. Part law enforcement and part small ship's captain, a riverine operator is trained to interdict drug smugglers and human traffickers while guarding American lives from terrorist attack.
In the Navy, the military police function is the Master-at-Arms, responsible for base security, force protection, and other law enforcement duties on land and at sea. Candidates must pass a rigorous 9-week course at San Antonio, Texas, and then deploy to a squadron around the world. Duties of a Master-at-Arms vary widely from traditional base security patrols to detecting explosives as part of a K-9 team. It is one of the most interesting and challenging jobs in the Navy.
For two centuries, American servicemembers have patrolled the dangerous waters of the world to keep us safe. There are thousands of sailors, like these, on duty right now far from home as the holidays approach. Won't you take a moment to help us send a little comfort their way for the holidays? You can join the thousands of Americans who make monthly contributions to Support Our Troops' Patriots Brigade® which provides comfort items and recreational activities for our troops, particularly those deployed overseas. Please visit our secure website https://supportourtroops.org/donate to donate to America's finest today!