"Where water is, Sailors will go.
Admiral Horacio Rivero, USN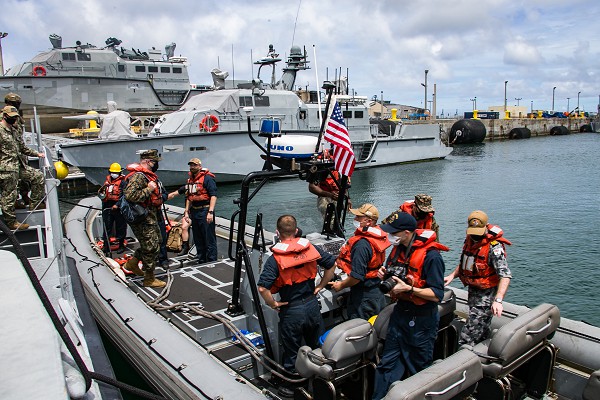 Naval Base Guam (November 2, 2020): In 1968, American forces in Vietnam were confronted with an indigenous guerrilla force that blended into and enjoyed the support of the local population. Of particular concern was Viet Cong activity in the vast Mekong Delta, a hot, humid, low-lying area filled with a maze of waterways that acted as interstate highways for the enemy. Taken together, the Mekong Delta was an extraordinary riverine challenge for the Americans.
The U.S. Navy responded with the largest riverine force since World War II involving hundreds of patrol boats plying the canals and lagoons of the Delta in search of the thousands of Viet Cong guerrillas. The Delta comprised about one fourth of the land mass in Vietnam and was home to over 4 million Vietnamese. Until the Delta was secured, little progress could be made on land.
The goal for riverine forces then, as now, was to control river traffic and to interdict weapons and enemy supplies before they could reach their Viet Cong. This meant around the clock patrols and sudden, violent encounters with the enemy. Always a close-up affair, Riverine crews shot it out with the enemy at point blank range only feet from shore. The Sailors and Marines who braved these waters were daring and showed a lot of courage.
In the above photo, U.S. Marines test the capabilities of the Mark VI patrol boat, the Navy's newest iteration of shallow draft vessels designed to patrol waterways like the Mekong. Heavily armored, these boats carry a crew of up to 14 sailors and are armed with .50 caliber machine guns and rocket launchers. The craft are ideal for riverine squadrons protecting domestic and foreign ports.
It is comforting to know that servicemembers like the Sailors and Marines in our riverine forces are on guard for America every day. At Support Our Troops, our mission is to send troops like these Yellow Ribbon Care Packages as a show of support and to lift their spirits. This holiday season, we are asking patriotic Americans to donate funds to Support Our Troops' Patriot Brigade®. Here you will join thousands of Americans who contribute monthly to sustain our forces, particularly those deployed overseas. Please go to our secure website https://supportourtroops.org/donate to donate to America's finest today!