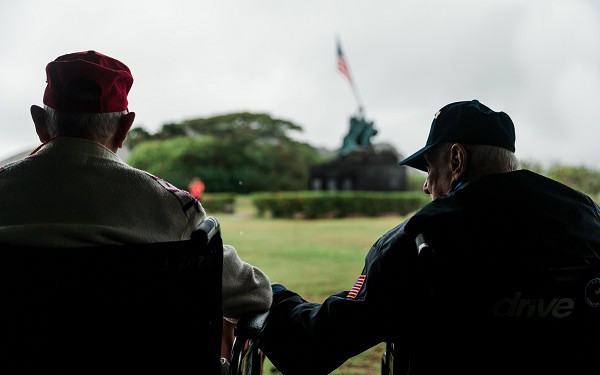 Marine Corps Base Hawaii. (November 10, 2022): U.S. World War II veterans sit together at the Iwo Jima Memorial, Hawaii, as Marines with the 3rd Battalion, 3rd Marines gather to express their gratitude to the more than 63 Iwo Jima veterans on the 80th anniversary of the attack on Pearl Harbor.
Marine Corps Base Hawaii. (November 10, 2022): It has been 80 years since they stormed the beaches of Iwo Jima in one of the bloodiest battles in Marine Corps history. Over 70,000 Marines took on approximately 18,000 Japanese soldiers in the thirty-six-day battle in which 7,000 Marines were killed and another 20,000 wounded.
The Marines captured just 216 Japanese; the rest were killed in action.
Above are Marine survivors of the battle being honored by today's Marines as they gaze at a monument to their courage and sacrifice. As the years pass, there will be fewer and fewer of these precious veterans to honor but their memory will live forever.
At Support Our Troops, our mission is to sustain our current crop of heroes, particularly servicemembers who are deployed overseas. We are issuing a national call to all good Americans to show their love and support for our deployed troops this holiday season by joining Support Our Troops' efforts to ship Yellow Ribbon Thanksgiving and Christmas Care Packages to our troops overseas.
Last year, Support Our Troops delivered over $40 million of tangible support to America's military servicemembers with 97 percent of every dollar spent on services. We hope you will take a moment, right now, to show your support for our active-duty military deployed around the world. Here's what you can do…YOU can make a difference in the life of a deployed servicemember this Christmas. It's simple! Just go to SupportOurTroops.Org Christmas 2022 Care Package.
You will find a list of things the troops are requesting.
Carefully read the packages rules that are posted there
Send to:
Support Our Troops Inc.
Regional Distribution Center
249-J Third St.
Ayden, NC 28513
If you would like to provide items for future care boxes or donate to help pay to ship the goods, you can find everything you need to know posted on SupportOurTroops.Org.~SOT Team