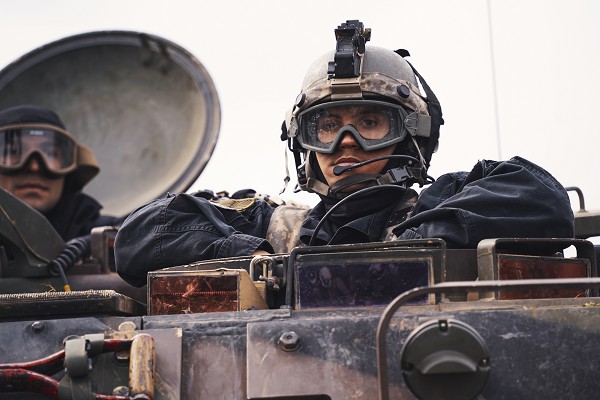 Hohenfels Training Area, Germany. (November 15, 2022): In this photo by Sergeant LaShic Patterson, U.S. soldiers assigned to the Joint Multinational Readiness Center play the opposing force during Dragoon Exercises conducted by the 7th Army Training Command.
Hohenfels Training Area, Germany. (November 15, 2022): Help Wanted. Candidate must be young, in top physical condition, be willing to travel, and not afraid of cramped spaces.
Oh, and did we mention, you'll be riding America's premier war machine?
That is the life of a U.S. Army Armor crewmember manning the M1A2 Abrams main battle tank in combat. It's a job that requires physical courage, stamina, and the ability to make split second decisions under extreme stress.
It's not a job for just anyone.
Today's Armor crews consist of a driver, a loader, a gunner, and a tank commander all working together like a symphony orchestra to locate and destroy the enemy. Unlike those who came before them, today's tankers must not only be physically strong but also technically proficient as they deal with some of the most sophisticated equipment in the Army.
Prospective Armor Crewmembers begin their careers at the home of the infantry, Ft. Benning, Georgia, where they receive 22 weeks of both basic and advanced training. Here they learn the basics; map reading and land navigation, communications, scouting, and how to execute military battle plans. In the field, candidates learn to load and fire the Abram's massive 120 mm main gun while practicing offensive and defensive maneuvers under simulated combat conditions. The duties of a four-person tank crew are as follows:

The Loader

This is the lowest ranking job on a tank crew but arguably the most critical to the performance, and survival, of the entire team. It is tough, physical work requiring a strong back and nimble hands to quickly load a variety of munitions under the extreme pressure of combat.
The Driver
The driver compartment is a cramped space in front of the tank's hull, directly under the main gun, in a form fitting bucket seat that tank drivers say it is like riding in a very comfortable recliner. They drive the tank using motorcycle style handlebars using a twist grip throttle to accelerate or decelerate and the brake pedals are on the floor just like a car. The "dashboard" consists of an integrated display with three periscopes (called vision blocks) and it includes highly sophisticated night vision sensors. The Driver responds to commands from the Tank Commander riding above him who has a better view of the battlefield.
The Gunner
This is probably the most technically demanding of all jobs in a tank maneuvering in combat. The Gunner pinpoints targets using a laser range finder tied to a computerized firing system, tells the Loader which rounds to load, and fires the main gun. Needless to say, inattention to detail in this job is extremely dangerous to the entire crew. This position is so important that the Army created a "Master Gunner" certification course to hone the skills of Abrams gunners to a razor's edge.
The Tank Commander
The Tank Commander rides on the right side toward the back of the turret and oversees all tank operations and maintenance. The Commander monitors the tank's various systems and the tank's position using several periscopes and a joystick-controlled night vision viewer. The Commander communicates with other tanks to select targets and then relays firing orders to his gunner and crew all while knowing one mistake could cost lives.
It is hard not to admire the courage and skill of these American tank crews as they saddle up for combat around the world. At Support Our Troops, we are dedicated to getting these troops "what they need, where they need it" through our Patriot's Brigade®. Using monthly donations from patriotic Americans, like you, we ship Yellow Ribbon Care Packages containing comfort items (and maybe a little piece of home) to our deployed active-duty servicemembers around the world. Won't you take a moment, right now, to help us send a little bit of comfort their way to brighten their holidays? Please visit our secure website https://supportourtroops.org/donate to donate to America's finest today!