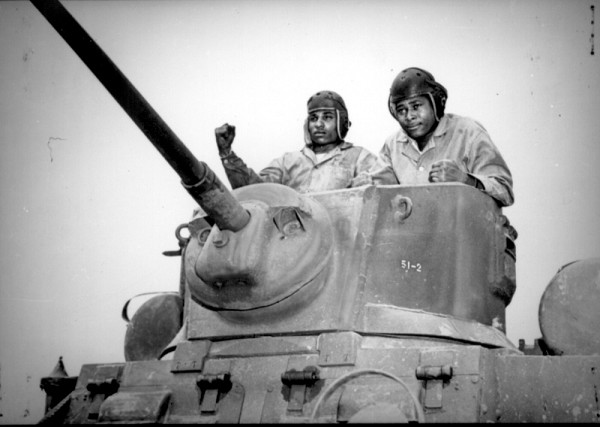 Fort Hood, TX. (November 19, 2022): In this photo from the National Archives, two African American soldiers with the 761st Tank Battalion, better known as the Black Panthers, train for combat in Europe aboard the M5 Stuart light tank. The Black Panthers would endure a record 183 days in combat and would liberate 30 towns on their campaign through Germany in World War II.
Fort Hood, TX.. (November 19, 2022): They were not welcome to eat at restaurants in their hometown. They would train separately from their white comrades and their leaders were hesitant to give them a chance in combat. They were the U.S. Army's 761st Tank Battalion, better known as the "Black Panthers", and they plowed through prejudice and segregation to play a major role in turning back the Germans at the Battle of the Bulge.
Their story begins with an executive order issued by President Franklin D. Roosevelt giving African Americans the chance to volunteer for military service. The 761st was formed in 1942 and would train at Fort Hood, Texas on the M4 Sherman, and M5 Stuart light tanks. They trained for over two years, mostly because Army commanders were not willing to give these soldiers a chance to prove their worth in combat. When they finally landed in Normandy, the Black Panthers were eager to show they were as good, or better, than their white comrades.
The 761st was assigned to General George Patton's Third Army and would be the first African American tankers to see combat in U.S. history. The Black Panthers would participate in four campaigns in six countries before playing a major role in the relief of the 101st Airborne Division at Bastogne during the Battle of the Bulge. The Black Panthers would go on to be one of the first U.S. battalions to meet up with Soviet Forces, thereby splitting the remnants of the German Army and hastening the end of the war.
During their lengthy service in Europe, the men of the 761st were awarded seven Silver Stars, 246 Purple Hearts, and one member earned the Congressional Medal of Honor.
Despite the obstacles, the valiant tankers of the 761st Battalion distinguished themselves among their fellow citizens and set an example for the world. At Support Our Troops, we celebrate today's warriors by sending Yellow Ribbon Care Packages loaded with comfort items (and maybe a little piece of home) to our overseas deployed servicemembers. You can do your part joining the thousands of Americans who make monthly contributions to Support Our Troops Patriot's Brigade® that funds comfort items and recreational opportunities for our troops deployed overseas. Please visit our secure website https://supportourtroops.org/donate to donate to America's finest today!