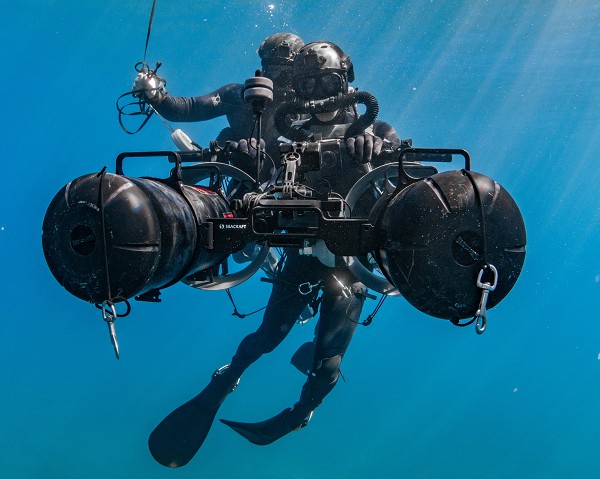 NORTHERN CALIFORNIA (Sept. 5, 2022) In this photo by MC2 Alex Perlman, Sailors assigned to various Naval Special Warfare (NSW) commands operate a Diver Propulsion Device (DPD) during high-altitude dive training. These devices allow combat divers to travel faster, and farther, underwater making them less fatigued when reaching their destination. The DPD greatly expands the speed and range of Navy divers during special operations missions.
NORTHERN CALIFORNIA (Sept. 5, 2022): If you have ever gone swimming with fins on your feet, you know how difficult and tiring travelling underwater can be. For Navy divers on a combat mission, the ability to move quickly and travel long distances is essential. Luckily, our nations combat divers have Diver Propulsion Devices (DPD's) that allow them to travel faster and farther than when moving under their own power.
Depending on the mission or environmental conditions, Navy divers have several choices in terms of range, speed, and payload capacity with today's NDPs. Often called "underwater scooters", these battery-operated units have dual thrusters and, depending upon the model, can transport two or more divers great distances while carrying various payloads.
A prime tool for Navy SEALs, USMC, Force Recon and Army Special Forces SCUBA teams, the DPS is employed as an insertion platform for combat divers to travel long distances while remaining undetected by the enemy. Manufactured by STIDD Systems, Inc., these devices feature hard coat hulls made from marine grade aluminum making them light and highly portable once on land. These DPDs can operate down to 100 feet below the surface and have a range of up to 7 miles traveling at an average speed of 1.2 knots.
The most popular DPDs use a single steerable electronic thruster powered by a lithium-ion battery and its depth and heading is controlled by a single hand-operated yoke. Some models even feature an optional navigation panel with a moving map display along with bottom scanning sonar. Weighing only 175 pounds, the DPD can be carried to and from the beach by its operators or air dropped into the water by parachute.
Most importantly, these devices allow our highest skilled warriors the ability to silently insert into a combat situation and, just as important, afford them the means for a hasty escape if necessary.
At Support Our Troops, we salute these brave warfighters as they risk their lives to protect our nation. Won't you take a moment, right now, to contribute funds to Support Our Troops' Patriot Brigade® that provides Yellow Ribbon Care Packages and recreational opportunities for our deployed servicemembers around the world. Please visit our secure website https://supportourtroops.org/donate to donate to America's finest today!