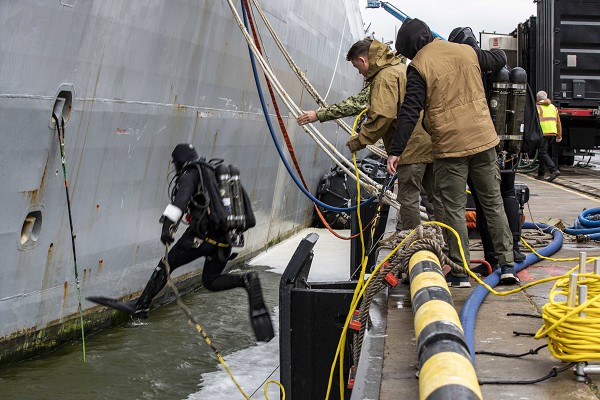 Klaipeda, Lithuania (November 19, 2022): In this photo by MC1 John Bellino, U.S. Navy Diver 1st Class William Crampton, left, assigned to Forward Deployed Regional Maintenance Center, Bahrain, enters the water to conduct underwater maintenance on the San Antonio-class amphibious transport dock ship USS Arlington during a scheduled port visit. The Arlington is part of the Kearsarge Amphibious Ready Group and 22nd Marine Expeditionary Unit, under the command and control of Task Force 61/2, is on a scheduled deployment in the U.S. Naval Forces Europe area of operations, employed by U.S. Sixth Fleet to defend U.S., allied and partner interests.
Klaipeda, Lithuania (November 19, 2022): A Navy warship has hit a mine and is limping towards port as the crew struggles to keep the vessel and crew afloat. Waiting for them are some of the world's most experienced and skillful divers in the world ready to tackle any type of underwater repair needed to save the ship and crew.
These scuba divers are called upon to handle wartime situations like these and many more.
Navy divers perform their duties in port and in the open ocean using all manner of underwater breathing devices, from the traditional SCUBA to mixed gas breathing apparatus for deep water dives. Their primary role is salvage operations in waters up to 300 feet deep and their duties range from recovering entire ships to retrieving debris spread over miles of ocean floor. In dealing with battle damage, these professionals perform highly complex underwater repairs to surface ships and submarines that are essential to keeping the fleet operational. They wear state of the art diving equipment to perform underwater cutting and welding tasks using hydraulic tool systems requiring skill and accuracy to operate. From constructing watertight enclosures to prevent flooding to replacing 80-ton ships anchors, if it is under the water line, Navy divers can handle it.
But their skills do not stop there.
A major part of their duties involve explosive demolitions to clear channels and waterways of obstructions so the fleet can operate freely. Divers are called upon to defuse mines or other enemy placed explosive devices under the most challenging conditions.
A growing role for Navy divers is to support Naval Special Warfare operators by delivering and recovering SEAL swimmer vehicles from submarines during special operations insertions. As recognized experts in all underwater work, Navy divers are trained in the recognition, diagnosis, and treatment of all diving related illnesses. They provide emergency treatment as well as performing clinical hyperbaric treatments for various non-diving related illnesses.
Finally, Navy divers may be called upon to perform extreme deep-water rescues of submarine crews to a depth of 2,000 feet.
It takes a special breed to willingly risk their lives in such dangerous and complex operations deep beneath the waves. At Support Our Troops, it is particularly gratifying to sustain these brave souls and their families with "what they need, where they need it." That is why we are issuing a national call to all good Americans to show their love and support for our deployed troops this holiday season by joining Support Our Troops' efforts to ship Yellow Ribbon Christmas Care Packages to our troops overseas.
Last year, Support Our Troops delivered over $40 million of tangible support to America's military servicemembers with 97 percent of every dollar spent on services. We hope you will take a moment, right now, to show your support for our active-duty military deployed around the world. Please visit our secure website https://supportourtroops.org/donate to donate to America's finest today!