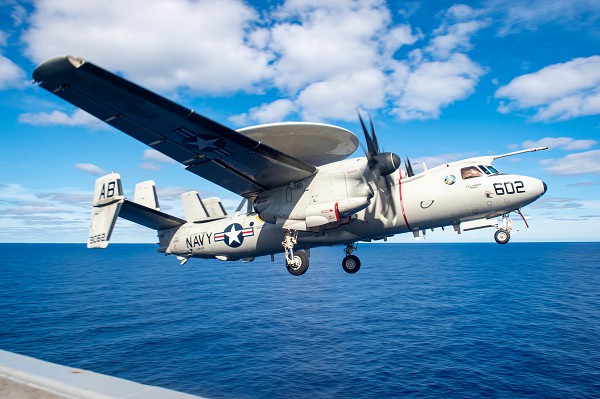 ATLANTIC OCEAN (Sept. 5, 2022): In this photo by MC3 Jack Hoppe, an E-2D Hawkeye, attached to the "Seahawks" of Airborne Command and Control Squadron, launches from the flight deck of the Nimitz-class aircraft carrier USS Harry S. Truman, during a Carrier Air Wing flyoff. While they may have an ungainly appearance, unlike the slick planes seen in the Top Gun movies, the E-2 Hawkeye is literally the "eyes in the skies" for naval aviators.
ATLANTIC OCEAN (Sept. 5, 2022): They fly strange looking birds, these Seahawks, with their turboprop engines with what looks like a giant satellite disc on top. But to Navy fighter pilots, they are the difference between life or death.
Officially dubbed the Airborne Command and Control Squadron, the Seahawks are assigned to the Harry S. Truman, a Nimitz class aircraft carrier named after America's 33rd president famous for the slogan, "give 'em hell". The Truman is a floating city of over 5,200 Sailors and Marines that is twenty-four stories high and over a thousand feet long. These servicemembers spend nine months of their lives at sea, away from home and loved one.
Flying the E-2 Hawkeye, a high-wing turboprop aircraft that carries a 24-foot diameter rotodome, the Seahawks provide all-weather airborne early warning and battle management for the carrier strike groups operating in the Atlantic Ocean. The Hawkeye has a five-person crew which includes a pilot, copilot, radar officer, combat information center officer, and aircraft control officer. She can fly at speeds up to 400 mph with a range of 1,500 miles and operates up to 6 hours without refueling. Flying at 30,000 feet, the Hawkeye is an airborne air traffic control center for Navy pilots that is equipped with sophisticated radars capable of detecting even stealth planes. The Hawkeye sees within a twenty-one-mile envelope while monitoring maritime traffic and directing fighters simultaneously.
For fighter pilots, the Seahawks deliver real time surveillance of potential enemy targets at great distances which gives them ample time to attack or evade the enemy. Other missions include surface surveillance, air interdiction, offensive and defensive counter air traffic control, and the Seahawk even helps out in search and rescue operations.

Today's Seahawks have achieved yet another milestone with this versatile aircraft, mid-air refueling. The unit recently completed eighty-one simulator and live training events which qualifies their pilots to hook up with the Air Force's KC-10 Extender refueling aircraft thereby extending their range and staying power above the target.
As the Seahawks look down from above, Navy pilots know they will be their "eyes in the skies."
At Support Our Troops, we honor the dedication and sacrifice of these American heroes by getting them "what they need, where they need it." That is why Support Our Troops is issuing a national call to all good Americans to show their love and support for our deployed troops this holiday season. Please join our effort by contributing to our Yellow Ribbon Christmas Care Packages campaign for the troops deployed overseas. Please visit our secure website https://supportourtroops.org/donate to donate to America's finest today!