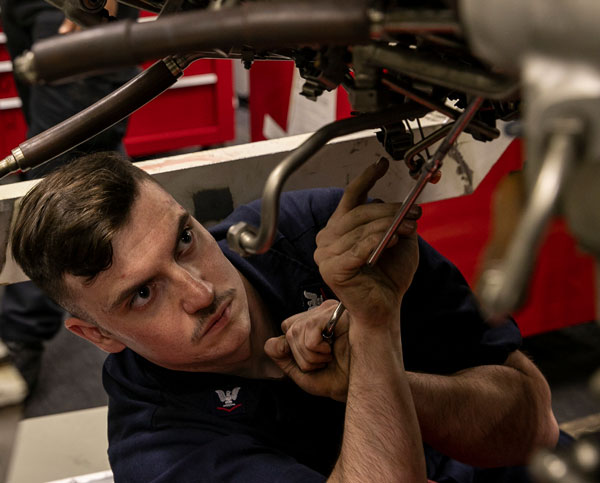 ADRIATIC SEA (January 10, 2023) In this photo by MC3 Nicholas Avis, Aviation Machinist's Mate 3rd Class Luke Antes, assigned to the Nimitz-class aircraft carrier USS George H.W. Bush, tightens down a bolt on an F/A-18 jet engine. The George H.W. Bush Carrier Strike Group is on a scheduled deployment in the U.S. Naval Forces Europe area of operations to defend U.S., allied and partner interests.
Navy Machinist Mates are highly skilled mechanics that are essential to the success of air operations on carriers, particularly with today's advanced engine technology. A Machinist Mate adjusts, tests, repairs, and even overhauls aircraft engines and propellers on America's most advanced fighters. In addition to performing routine maintenance, Machinist Mates help prepare aircraft for flight and assist in handling aircraft on the ground.
Machinist's Mate 3rd Class Luke Antes, pictured above, is assigned to the USS George H.W. Bush Aircraft Carrier, a floating city of over 3,500 Sailors and Marines who operate 30 fixed wing planes and choppers.as part of the U.S. 6th Fleet. To become a Machinists Mate, a candidate must pass a three-phase program before they are entrusted with the care of multi-million-dollar jet engines. The "A" School is taught at Pensacola, Florida and focuses on aviation theory and basic skills. Next comes advanced training in either helicopter, turbojet, or turbo-prop aircraft at a variety of naval air stations around the country. Finally, candidates further specialize in the type of aircraft they will encounter at their duty station, either the F/A 18 Attack fighter or the EA6B Prowler reconnaissance aircraft.
The U.S. 6th Fleet, headquartered at Naval Support Activity Naples, Italy, is responsible for patrolling the Mediterranean with its approximately 40 ships, 175 aircraft and 21,000 personnel.