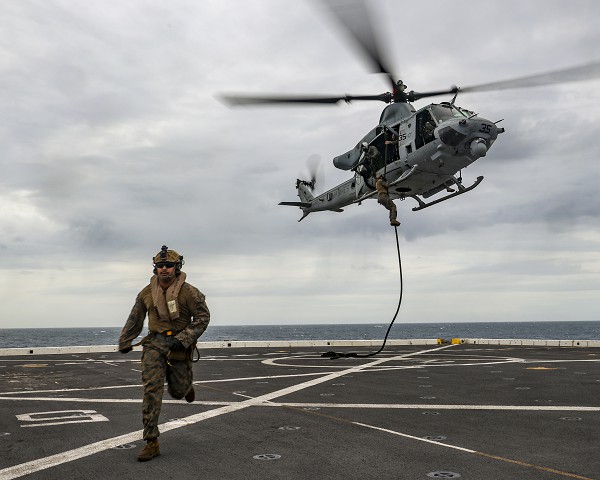 PACIFIC OCEAN (January 4, 2023): In this photo by Corporal Austin Gillam, Marines with Battalion Landing Team 2/4, 13th Marine Expeditionary Unit, participate in fast-rope operations aboard the amphibious transport dock USS Anchorage. A force in readiness, the 2/4 trains in fast rope operations to rapidly respond to crises in all domain environments. The 2nd Battalion, 4th Marines (2/4th) earned the nickname "Magnificent Bastards" for their heroic actions in the Battle of Dai Do during the Vietnam War.
In December 1967, the Battalion Landing Team 2/4 disembarked from the USS Iwo Jima, an amphibious-ready off the coast of Vietnam, to take part in the epic Battle of Dai Do. Little did they realize their 1,000-man battalion would be taking on an entire NVA Division. According to Col. William Weise, the 2/4 battalion commander, "This is the only engagement of the entire Vietnam conflict, where a single reinforced battalion-sized Marine unit, supported by intense naval gunfire, fought head-to-head with a division-sized unit of between 6,000 to 10,000 regular NVA soldiers."
Not only were the Marines resisting the largest single enemy attack of the war, they were also engaged in battle tactics more like those employed in WWII than in the rice paddies, villages, and mountainous regions of Vietnam. At Dai Do, the fighting was often hand-to-hand, bunker-to-bunker, in open farmland and over hedgerows, more like Normandy than anything seen in Vietnam.
Now based out of Marine Corps Base Camp Pendleton, California, the 2/4th is part of the 5th Marine Regiment, 1st Marine Division, the 2/4 continues to distinguish itself as a ready-response force to defend peace and maintain stability in the Indo-Pacific region.