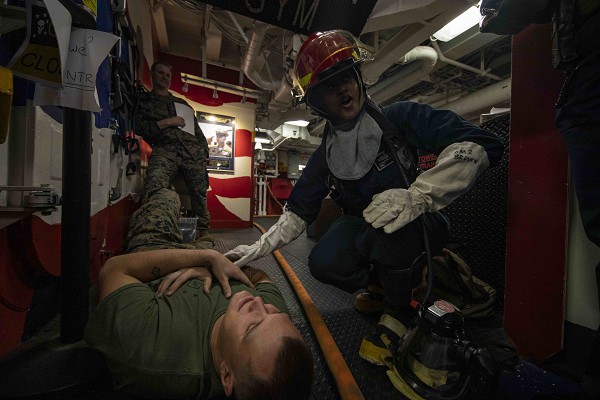 SOUTH CHINA SEA (January 6, 2023): In this photo by MC3 Kendra Helmbrecht, Boatswain's Mate 2nd Class Ashley Brown assists a simulated casualty during a general quarters exercise aboard the amphibious assault ship USS Makin Island in the South China Sea. Damage control drills are used both in port and underway to ensure that Sailors have the proper training to handle any emergencies that may arise.
The life of a typical Boatswain Mate aboard an American warship is as challenging as advertised. Their job involves supervising the maintenance of the ship in addition to a diverse roster of other responsibilities, from standing watch to repairing, maintaining, and stowing equipment. Besides these duties, all crewmembers participate in combat and damage control drills which can be initiated at any time at sea or in port.
Picture a life of constant training, in one form or another, around the clock, seven days a week, week after week for months. While these drills may seem monotonous to the crew, history has taught the value of practice damage control until each sailor does their jobs perfectly.
General Quarters, for example. is a condition of readiness for combat on a warship in which crew members remain at their battle stations and have guns and ammunition ready for immediate loading.
Just as vital to the survival of the ship are Damage Control drills. These exercises help the crew stabilize the ship in an emergency and each crewmember has a role to play in saving the ship. These drills occur at all hours and under realistic conditions and this is where all the training pays off.
Navy trainers hope to achieve "muscle memory" in Sailors to perform their most critical tasks in an emergency. Each Sailor and Marine has a specific location, task, and assignment on a battleship that must be accomplished in the fastest possible time. Once the alarm is sounded, servicemembers know exactly where they are supposed to be and what they are supposed to be doing.
Ship drills, while repetitious, are the key to saving lives aboard a warship at sea.