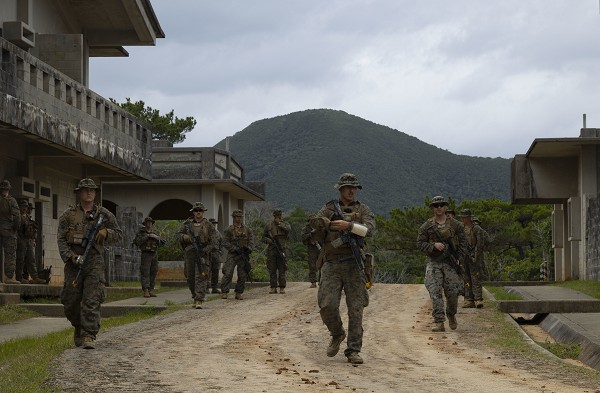 Okinawa, Japan. (January 9, 2023): In this photo by Corporal Davin Tenbusch, U.S. Marines with 3rd Battalion, 4th Marines patrol an urban training area during Stand-In-Force Exercises on Okinawa, Japan. The exercise involves all elements of the Marine Air-Ground Task Force acting as a Stand-In-Force to rehearse rapidly projecting combat power in defense of our allies in the region.
The 3rd Battalion, 4th Marines (3/4), nicknamed the "Thundering Third", is based at the Marine Corps Air Ground Combat Center, Twentynine Palms, California. Consisting of approximately 1,000 Marines, the 3/4th currently falls under the command of the 7th Marine Regiment, 1st Marine Division, but — along with its two sister battalions — is hosted by the 3rd Marine Division at Camp Schwab, Okinawa, Japan, when training in jungle warfare.
These units are part of a Marine Air Ground Task Force (MAFTF), a collection of air, naval, and ground combat power that is deployed in response to global conflicts or disasters. The MAFTF allows Marines to deliver rapid, powerful, and sustainable forces anywhere in the world ready to fight. The task force is forward deployed and are often the first to arrive in a crisis. The team includes a Battalion Landing Team; a Helicopter Squadron, and a Combat Logistics Battalion to sustain the task force. The structure of these forces allows Marines to respond quickly with extremely versatile options. Marines have the amphibious capabilities to reach battlefields traditional forces cannot, and have the equipment to operate without ports, airstrips, or significant infrastructure.
Deployment of these Stand-In Forces involves small, agile forces that are constantly operating within an adversary's striking range. This guarantees Marine forces are ever present in areas where tensions are high, and conflict is possible with very little warning.
Japan has faced increasing belligerent behavior from both North Korea and China that has spurred major changes to Japanese defense policy. In a recently signed agreement, Japan vows to double its defense spending by 2027 and will extend the U.S. presence at Okinawa.