WORKING TOGETHER TO DEFEND OPEN SEAS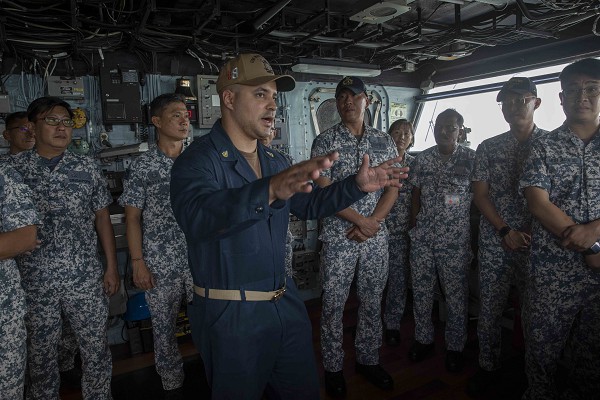 SINGAPORE (January 9, 2023): In this photo by MC2 Nadia Lund, Senior Chief Quartermaster Luis Torres gives a tour of the bridge of the amphibious assault ship USS Makin Island to senior enlisted leaders of the Republic of Singapore Navy.
The Sailors are participating in the annual Cooperation Afloat Readiness and Training (CARAT) Marine Exercises, a bilateral maneuver between Singapore and the United States designed to promote regional security cooperation and to maintain and strengthen maritime partnerships.
In its 28th year, the CARAT series is comprised of multinational exercises designed to enhance U.S. and partner forces' abilities to operate together in response to maritime security challenges. The Makin Island Task Force is made up of the amphibious transport dock USS Anchorage and USS John P. Murtha operating in the U.S. 7th Fleet area of operations. The muscle of the task force is the 13th Marine Expeditionary Unit.
The Makin Island got its name for a famous raid, carried out by Marine Raiders on Japanese held Makin Island during WWII. The purpose of the raid was to destroy installations, gain intelligence, and divert attention away from U.S. landings on Guadalcanal. The raid was launched from the submarines USS Nautilus and USS Argonaut and succeeded in routing the enemy forces based there and gaining valuable intelligence. The transformational nature of the raid is regarded by many as the U.S. Marine Corps' first action in the realm of Special Operations.
America enjoys a long and mutually beneficial relationship with Singapore, a country whose political stability, low corruption rates, and transparent public institutions make them a trusted partner in the Indo-Pacific. Their Navy, which was established in 1965 upon their gaining independence from Malaysia, is one of the most powerful in southeast Asia.
On September 23, 2019, Singapore Prime Minister Lee Hsien Loong and US President Donald Trump renewed a key defense pact which extends the right of American forces to use Singapore's air and naval bases by another 15 years to 2035.
The CARAT Exercises were not all work, however, as both nations provided shipboard tours, band performances, and cultural exchanges including a sports day involving junior Sailor and Marines.