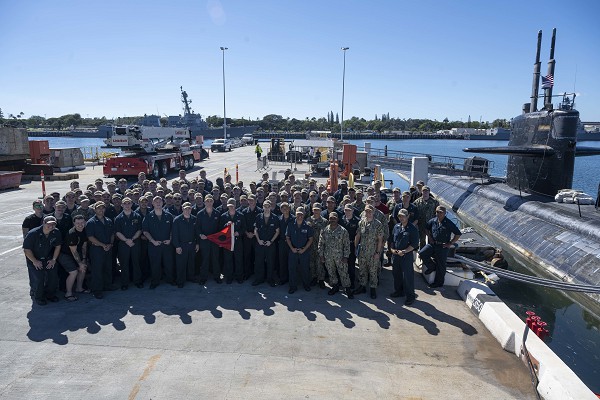 Pearl Harbor, Hawaii. (January 8, 2023): In this photo by MC1 Scott Barnes, the crew of the Los Angeles-class attack submarine USS Chicago poses with the Battle Efficiency, or Battle "E" pennant that recognizes crews for their high levels of sustained proficiency and readiness. The Battle "E" Pennant is awarded after a yearlong evaluation of a submarine crew in an operational environment, and they must measure up to exacting standards.
The Los Angeles-class submarine is the backbone of the U.S. Navy's submarine force with 41 ships now on active duty, accounting for more than half of the U.S. Navy's fast attack submarines. Equipped with 12 vertical launch tubes for firing Tomahawk cruise missiles, the Los Angeles-Class is an awesome war machine silently patrolling the world's oceans.
In addition to her recent recognition, the Chicago has earned multiple awards in her service life including the Navy Unit Commendation, three Meritorious Commendations, and four Navy "E" Pennants. She has also been awarded several campaign awards including the Navy Expeditionary Medal, National Defense Medal, Armed Forces Expeditionary Medal, and two Southwest Asia Service Medals.
Hats off to the crew of the USS Chicago for a job well done!