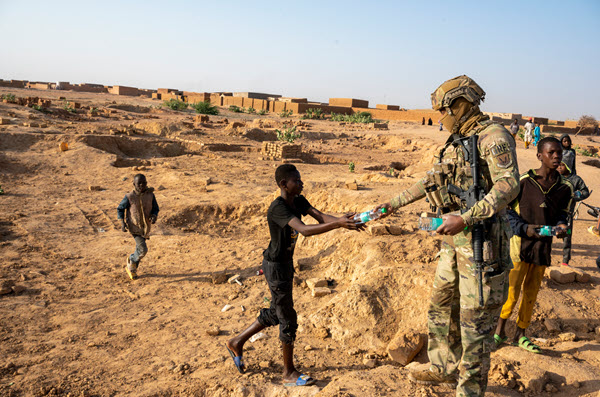 NIGERIEN AIR BASE 201, AGADEZ, Niger: (January 6, 2023): In this photo by Master Sergeant Michael Matkin, U.S. Air Force Senior Airman Lorenzo Bennette, assigned to the 409th Expeditionary Security Forces Squadron, hands a bottle of water to a local child near Air Base 201 in the African country of Niger. MSgt. Matkin is part of the base Quick Reaction Force (QRF), an elite unit comprised of Airmen from multiple squadrons trained in combat and evasion. These Airmen are highly skilled professionals who undergo special training to perform their duties in austere and potentially hostile environments.
Typically, a QRF is an armed military unit capable of rapidly responding to developing situations, to help allied units in need of such assistance. They must have the personnel and equipment ready to respond to any type of emergency within ten minutes or less.
The 409th Air Expeditionary Group was first activated in June 1943 during World War II. Today, the group operates intelligence, surveillance, and reconnaissance aircraft from unspecified locations in the horn of Africa.
Niger, which is in the heart of the Sahel, a transitional zone between the arid Sahara Desert to the north and the more fertile regions to the south. The Sahel is semiarid steppe, a type of dry grassland. It has low-growing grass, thorny shrubs, and scattered acacia and baobab trees. Niger has a poorly diversified economy with agriculture accounting for 40% of its Gross Domestic Product (GDP). More than 10 million persons (41.8% of the population) were living in extreme poverty in 2021. As if this was not enough, Niger is grappling with an influx of refugees fleeing conflicts in neighboring Nigeria and Mali.
Over the years, the country's situation has only worsened as the humanitarian situation grows more dire due to insecurity, hunger, the climate crisis, and COVID-19. This has created a cycle of poverty that is even more difficult to break for millions of Nigeriens living on less than $1.90 per day. Incredibly, 20% of Nigeriens cannot meet basic daily food and nutrition needs.
America is doing its part, in addition to the American military presence, the U.S. provided more than $356 million last year.