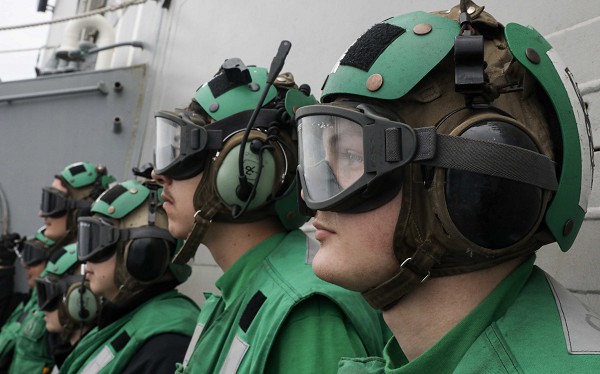 PHILIPPINE SEA (Jan. 17, 2023): In the photo by MC1 Greg Johnson, Sailors assigned to the Arleigh Burke-class guided-missile destroyer USS Rafael Peralta wait for an MH-60R Sea Hawk helicopter assigned to Helicopter Maritime Strike Squadron 51 to lift off from the ship's flight deck. The Rafael Peralta is assigned to Commander, Task Force 71/Destroyer Squadron (DESRON) 15, the Navy's largest forward-deployed DESRON and the U.S. 7th Fleet's operating in the Philippine Sea.
Commissioned in 1991, the USS Rafael Peralta is the 65th Arleigh-Burke-class guided missile destroyer, one of the largest warship production run in Navy history. The Rafael Peralta's mission is to guard the fleet from attack from enemy aircraft, surface ships, and submarines. A devastating weapon in its own right, the Rafael Peralta is packed with five types of weapon systems including the Tomahawk Cruise missile. The vessel's undersea warfare capability includes the ability to launch four types of torpedoes, Defensively, the ship has a mix of defensive weapons including the deadly Phalanx anti-aircraft system that fires a shattering 50 rounds per second.
The Rafael Peralta air wing includes the "Warlords" helicopter squadron, the US Navy's only forward-deployed Sikorsky MH-60R "Seahawk" expeditionary helicopter squadron. Based in Atsugi, Japan, the Warlords are a combat-ready helicopter fleet armed with anti-surface and anti-submarine detachments to ships deploying in the Western Pacific and Arabian Gulf regions.
This ship gets its name from a Marine who was killed during the Second Battle of Fallujah in Iraq when he was wounded by small arms fire while clearing houses with his fellow Marines. The insurgents threw a hand grenade into the room. Despite being injured, Peralta pulled the grenade underneath his body (thus absorbing most of the blast), killing him instantly and saving his fellow Marines. For his actions, Peralta was recommended for the Medal of Honor but was posthumously awarded the Navy Cross instead.