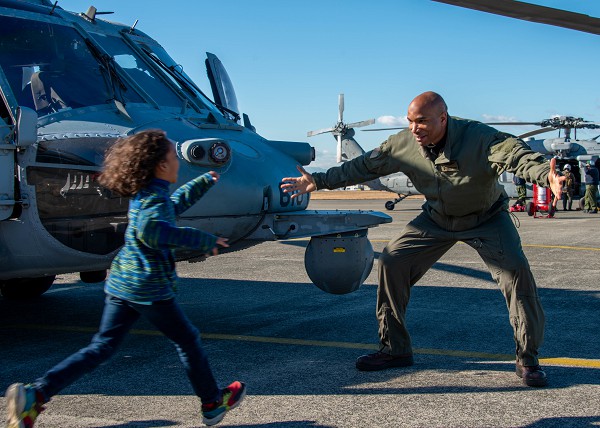 Atsugi, Japan (December 15, 2022): In this photo by MC2 Ange Oliver Clement, Chief Naval Air Crewman (Helicopter) Reginald Harvey from the "Golden Falcons" of Helicopter Sea Combat Squadron is greeted by his family at Naval Air Facility Atsugi, Japan. Crewman Harvey and the "Golden Falcons" completed a U.S. 7th Fleet deployment where they provided airpower in support of the USS Ronald Reagan Carrier Strike Group while it operated with allies and partners in support of a free and open Indo-Pacific.
The Golden Falcons are a helicopter anti-submarine squadron established in 1952 and they are the oldest active anti-sub squadron in the Navy. The unit has a complement of 190 enlisted and twenty-two officers who operate eight MH-60S Seahawk helicopters.
The Falcon's mission involves search for enemy submarines that potentially threaten the USS Ronald Reagan Strike Group's operating in the Indo-Pacific. The Reagan is a floating city of 3,500 Sailors and Marines supported by dozens of warships and supply vessels. She was named in honor of former President Ronald Reagan who served from 1981-1989. She is the ninth nuclear super carrier of her class and a major anchor for the U.S. 7th Fleet.