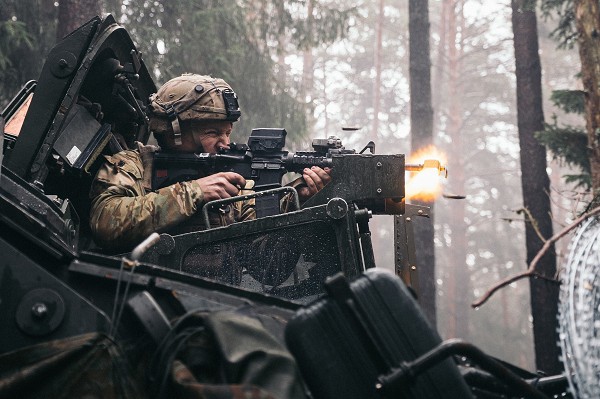 Hohenfels Training Area, Germany. (February 19, 2023): In this photo by Staff Sergeant Jose Rodriquez Guzman, a soldier assigned to the 2nd Cavalry Regiment engages the enemy during Dragoon Ready 23, an exercise to enhance readiness and improve coordination with our NATO allies. Some 2,500 troopers and 120 soldiers from the 12th Combat Aviation Brigade joined soldiers from Italy and the United Kingdom to conduct combat drills and hone interoperability between forces.
The 2nd Cavalry Regiment, also known as the 2nd Dragoons, is an active Stryker Infantry and cavalry regiment of United States Army Europe and Africa and is garrisoned at Rose Barracks in Vilseck, Germany.
Formed in 1836, the Regiment has distinguished itself in major campaigns including the Indian Wars, the Mexican War, the Civil War, the Spanish-American War, both world wars, and the Persian Gulf War.
The 12th Combat Aviation Brigade, whose motto is "Wings of Victory", is a combination of attack/reconnaissance helicopters (AH-64 Apache), medium-lift helicopters (Sikorsky UH-60 Black Hawk), and heavy-lift helicopters including the Boeing CH-47 Chinook.
Hohenfels is home to the Joint Multinational Readiness Center that trains leaders, staffs, and units to conduct of Unified Land Operations anywhere in the world. The Center covers 40,000 acres, has a short takeoff/landing strip, and is the second largest maneuver area available to U.S. troops in Europe.