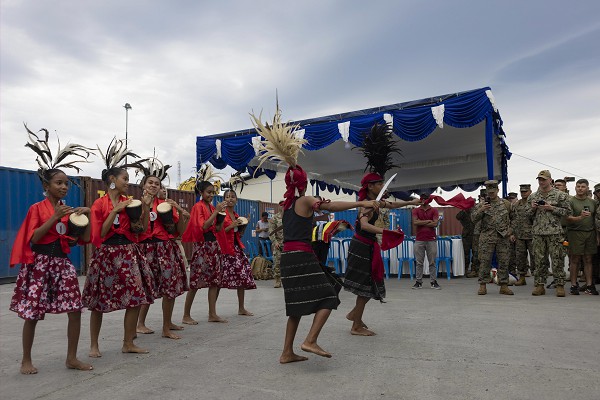 Dili, Timor-Leste (February 15, 2023): In this photo by Sergeant Nicolas Atehortua, Marines assigned to the 13th Marine Expeditionary Unit and U.S. Navy Sailors assigned to the amphibious transport dock USS John P. Murtha watch a native dance performed by the people of Timor-Leste, also known as East Timor.
Cooperation Afloat Readiness and Training/Marine Exercise (CART) is a bilateral exercise between Timor-Leste and the United States designed to promote regional security cooperation, strengthen maritime partnerships, and enhance maritime interoperability. In its 28th year, the CARAT series is designed to help U.S. and partner forces operate together in response to maritime security challenges in the Indo-Pacific.
During the exercise, 100 Timor-Leste Defense Force service members plus members of the National Police participated in a series of trainings aboard John P Murtha and at Hera Naval Base on the island. These sessions included classroom and practical application of combat life saving techniques, helicopter-borne assault operations, humanitarian assistance and disaster relief , and board, search, and seizure exercises.
The U.S. Navy Seabees have had a continuous presence in Timor-Leste since 2009, rotating groups of American military engineers every six months who are building educational facilities and health clinics in many parts of the country.
Timor-Leste, or East Timor, is a Southeast Asian nation that occupies half the island of Timor located northwest of Australia on an arm of the Indian Ocean. As such, Timor-Leste is a valuable strategic location for U.S. forces operating in the Indo-Pacific. This tiny nation of 1.2 million became an independent nation in 2002 after four hundred years of Portuguese and Indonesian colonization.