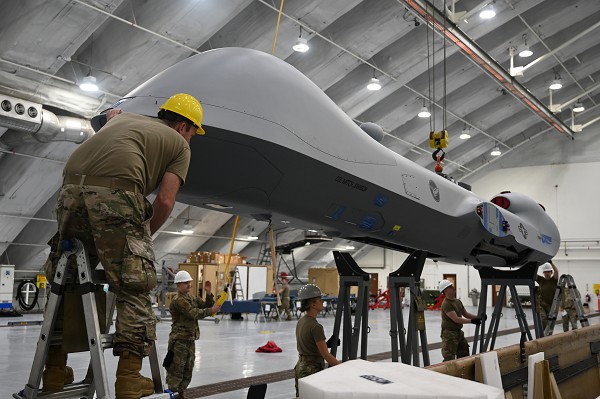 Andersen Air Force Base, Guam. (February 9, 2023): In this photo by Senior Airman Christa Anderson, U.S. Air Force aircraft maintenance personnel assigned to the 119th Wing position an MQ-9 Reaper drone onto jacks to prepare for landing. Placing the bird onto jacks allows the landing gear to wind down into place so maintainers can begin the assembly process. The Reaper is a remotely piloted, armed, medium altitude drone built by General Atomics Aeronautical Systems that can remain airborne for up to 27 hours.
The MQ-9 is a larger, heavier, and more capable aircraft than the earlier General Atomics MQ-1 Predator and can be controlled by the same ground systems. The Reaper has a 950-horsepower turboprop engine that can achieve speeds of 240 mph and can operate at up to 50,000 feet with a 3,850-pound payload. The Reaper can carry up to four Hellfire II anti-armor missiles and two laser-guided 500-pound bombs. It also serves as a long-endurance, persistent surveillance platform that includes electro-optical/Infrared Lynx® Multi-mode Radar, multi-mode maritime surveillance radar, laser designators, and various weapons and payload packages.
General Atomics has recently added an extended range version with field retrofittable capabilities such as wing-borne fuel pods and a new reinforced landing gear that extends the aircraft's already impressive endurance from 27 hours to 34 hours. To date, the MQ-9 has been acquired by the U.S. Air Force, U.S. Department of Homeland Security, NASA, the Royal Air Force, the Italian Air Force, the French Air Force, and the Spanish Air Force.
The 119th Wing, nicknamed the "Happy Hooligans", is a composite unit of the North Dakota Air National Guard stationed at Fargo Air National Guard Base, North Dakota. If activated to federal service, elements of the Wing are assigned to Air Expeditionary Forces and are subject to deployment along with their active duty and Air Force Reserve counterparts. As a National Guard unit, the 119th Wing responds to state missions including disaster relief in times of earthquakes, hurricanes, floods and forest fires, search and rescue, protection of vital public services, and support to civil defense.