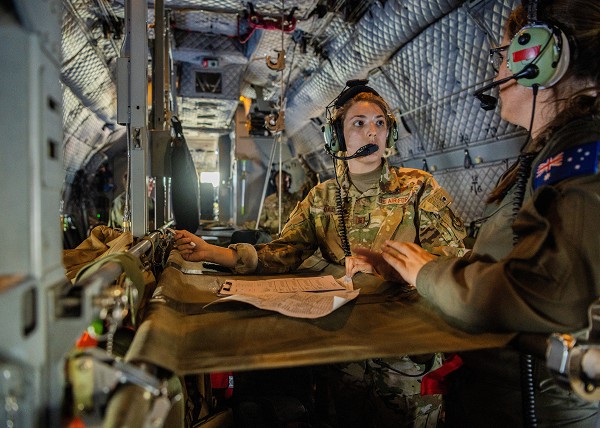 Micronesia. (February 14, 2023): In this photo by Tech Sergeant Jao'Torey Johnson, U.S. Air Force Capt. Shailey Dao, a flight nurse, receives in-flight contingency response training from a Royal Australian Air Force service member while aboard a C-27J Spartan during exercise Cope North 2023.
Often called "flying angels", military flight nurses are credited with saving countless lives that otherwise would be lost without their skill and dedication. When injured Airmen need to be transported, medical care continues enroute to more advanced medical care by members of the aeromedical evacuation team.
It is the responsibility of Air Force Flight Nurses to provide emergency lifesaving and prehospital care, from planning a mission to final deplaning at the hospital. During flight, these nurses us their assessment skills to advise waiting ground medical staff of the situation so they can get a jump on needed treatment.
To be a military flight nurse, candidates must have a bachelor's degree from an accredited nursing school and have at least one year clinical experience in acute care.
Cope North 2023 involved air force units from Australia, Japan, and the United States launching aircraft from airfields on Guam, the Marianas, and Palau in the Western Pacific. The exercise gives these forces the chance to rehearse and refine a range of missions they may face in the real world, including humanitarian assistance and disaster relief, and agile combat employment operations.
The Royal Air Force deployed elements of its Combat Support Group including contingency response and health and security forces. These elements integrated with the United States Air Force and Japan Air Self Defense Force counterparts with a focus on improving interoperability and establishing airbases at multiple locations simultaneously.
The exercise also focused on developing agile combat employment tactics, techniques, and procedures to ensure air power can be employed when and where it is required.
This year was the 13th time Australia has taken part in Exercise Cope North.