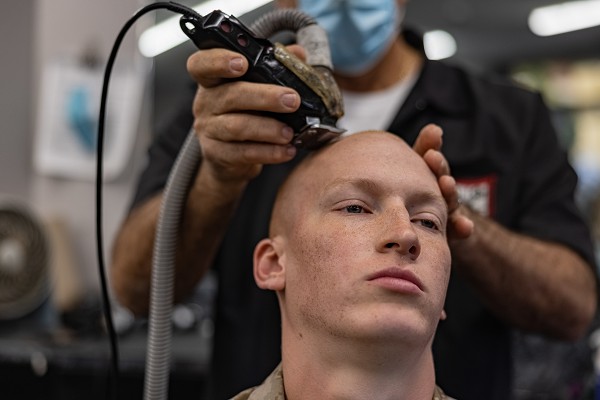 San Diego, California. (March 1, 2023): In this photo by Lance Corporal Jacob B. Hutchinson, U.S. Marine Corps Recruit Levi Castleman with Golf Company, 2nd Recruit Training Battalion, receives his buzz haircut at Marine Corps Recruit Depot San Diego. Recruits receive haircuts weekly during basic training to maintain a uniform appearance and promote good hygiene throughout recruit training. Castleman was recruited out of Amarillo, TX, with Recruiting Station Albuquerque, New Mexico.

Commentary:
It has been 47 years but I can still remember the feel of my just shaved noggin, prickly and strange, as I piled out of the barber's chair during Basic Combat Training at Fort Knox, Kentucky. I remember stepping outside and not recognizing any of the soldiers who I swear rode with me on the bus from Miami.
The shaving of heads is a military tradition, not just for hygiene reasons, for every recruit (except women) since the earliest days of our republic. Other than keeping things uniform, the shearing of locks accomplishes the very important goal of eliminating the "individual" among the troops.
Every recruit arrives at basic training with their own sense of self importance and ego as individuals, not as members of a team. The military deliberately breaks down these cultural, racial, and financial differences by ensuring every trainee looks (and acts) like everyone else.
The goal here is to break a person down to their essence and strip them of unearned pride and the tendency to "look out for oneself". No matter what their background, military recruits are affectionately called "maggots", the lowest form of life, to remind them that without their buddies they will not survive in combat. Once that lesson has been absorbed, the military proceeds to rebuild these trainees in the military image. While initially unsettling, the "levelling" of recruits (including spartan haircuts) is an essential part of turning civilians into warfighters.
By Jim Spearing
SSgt. (Ret).