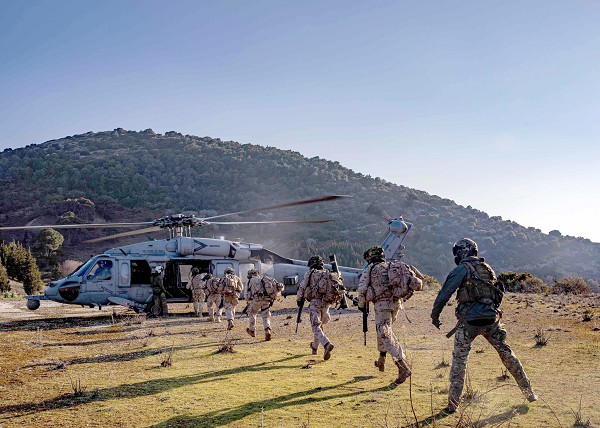 ALBANIA (February 22, 2023): In this photo by Petty Officer 2nd Class Novalee Manzella, Spanish Marines climb aboard a U.S. Navy MH-60S Sea Hawk helicopter during interoperability training in Albania. Carrier Air Wing 7, the offensive attack component of the George H.W. Bush Carrier Strike Group, is on a scheduled deployment of the U.S. Sixth Fleet to defend U.S. and allied partner interests. Naval Forces Europe consists of six nuclear-powered aircraft carriers, 54 aircraft squadrons, 1,200 aircraft, and 43,000 officers, enlisted and civilian personnel based on the East Coast of the United States.
The Spanish troops are part of the U.S. Navy's "Stronger Together" campaign to integrate allied ships and aircraft in the Mediterranean. The Spanish and American Navies share many historical and cultural ties and a commitment to the defense of the citizens and territories of NATO Allies.
The USS George H.W. Bush is the Navy's tenth Nimitz-class super carrier and is named for the 41st President of the United States George H.W. Bush who was a naval aviator during World War II.
The vessel's callsign is Avenger after the TBM Avenger Aircraft flown by then-Lieutenant George H. W. Bush who became one of the U.S. Navy's youngest pilots when he received his Naval Aviator wings on 9 June 1943, three days before turning 19. He flew torpedo bombers from the USS San Jacinto from August 1943 to September 1945 and was shot down by Japanese anti-aircraft fire. He was rescued by the Navy submarine USS Finback and was awarded the Distinguished Flying Cross and three Air Medals for courageous service in the Pacific Theater.
The George H.W. Bush was built in 2009 at a cost of $6.2 billion and her home port is Naval Station Norfolk, Virginia.