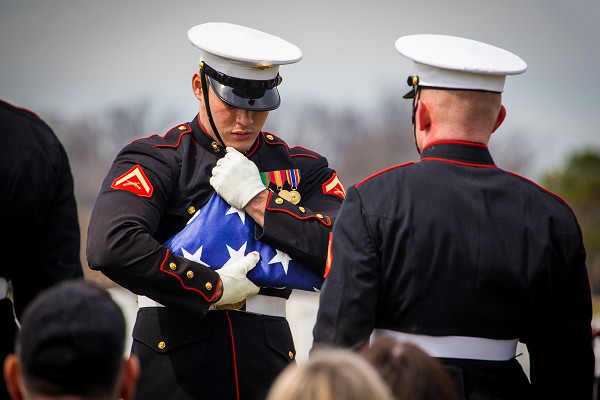 Washington, D.C. (March 2, 2023): In this photo by Corporal Tanner Lambert, Lance Corporal Justin Shevlin folds the U.S. flag during a funeral for repatriated Marine Corporal Thomas H. Cooper who was killed on the Tarawa Atoll of the Gilbert Islands during World War II.
Corporal Cooper, 22, from Chattanooga, Tennessee, was a member of A Company, 2nd Amphibious Tractor Battalion, 2nd Marine Division which landed against stiff Japanese resistance in this famous battle.
Over several days of intense fighting, approximately 1,000 Marines and Sailors were killed and more than 2,000 were wounded while the Japanese were virtually annihilated. Cooper died on the first day of the battle and was reportedly buried on Betio Island. Despite the heavy casualties suffered by U.S. forces, success in the battle of Tarawa was a huge victory for the U.S. military in the Central Pacific Campaign against Japan.
In the immediate aftermath of the fighting on Tarawa, U.S. service members who died in the battle were buried in a number of battlefield cemeteries on the island. The 604th Quartermaster Graves Registration Company conducted remains recovery operations on Betio between 1946 and 1947, but Cooper's remains were not identified.
All the remains found on Tarawa were sent to the Schofield Barracks Central Identification Laboratory for identification in 1947.In March 1980, the Central Identification Laboratory sent officials to Betio Island to receive skeletal remains that had been recovered during a construction project. Of the three sets recovered, two were identified. The third was declared unidentifiable and was subsequently buried in the National Memorial Cemetery of the Pacific, known as the Punchbowl, in Honolulu.
With thanks from a grateful nation, Corporal Cooper is finally home.