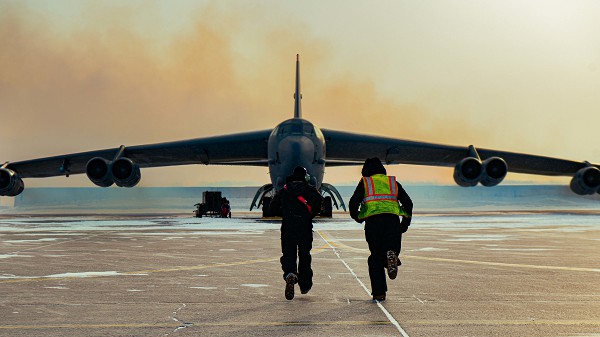 Minot Air Force Base, North Dakota. (February 23, 2023): In this photo by Staff Sergeant Michael A. Richmond, crew chiefs assigned to the 23rd Aircraft Maintenance Squadron run toward a 23rd Bomb Squadron B-52H Stratofortress to remove the chocks before launching the aircraft to Moron Air Base, Spain. The Spaniards played host for Bomber Task Force 23-2, an exercise to familiarize aircrews with the overseas bases they would use in the event of war.
For the pilots and crews of the 23rd, this deployment reads like a European vacation. The mission began with a low approach flyby of 2 B-52H Stratofortress aircraft in Tallinn, Estonia, in celebration of Estonia's Independence Day. Next, the Squadron flew sorties in Northern Europe with British Royal Air Force F-35s in close-air-support training with Norwegian Joint-Terminal Attack Controllers. Last week, the 23rd joined French and Spanish forces to practice delivering nuclear and conventional firepower to simulated targets.
The squadron is one of the oldest in the Air Force, having deployed to England as part of the American Expeditionary Forces during World War I, and the unit saw action in World War II. The 23rd later became part of the famous Strategic Air Command (SAC) protecting America during the Cold War.
The legendary B-52 Stratofortress strategic bomber is older than the aircrews that fly them. The B-52, which has formed the backbone of America's strategic bomber forces for the past 60 years, can drop or launch the widest array of weapons in the U.S. inventory. These weapons include gravity bombs, cluster bombs, precision guided missiles, and joint direct attack munitions using updated technology. This ageless bird is expected to continue operating through 2050..
The 23rd Bomb Squadron is assigned to the 5th Bomb Wing at Minot Air Force Base, North Dakota, and is on 24 hour a day strategic bomber readiness. The squadron stands ready to deploy and fly its B-52Hs to enforce national security policy with overwhelming nuclear or conventional firepower to defend America.