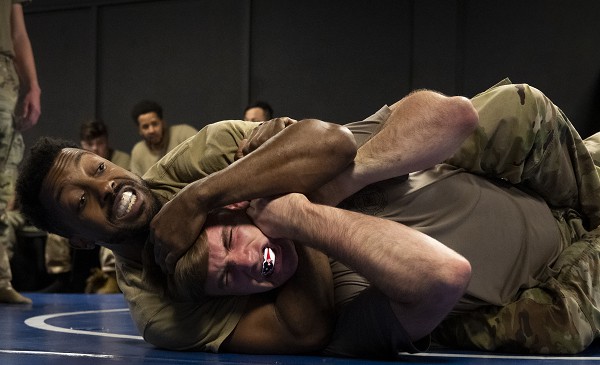 Eglin Air Force Base, Florida. (February 16, 2023): In this Air Force photo by Samuel King Jr., Staff Sgt. Jared Elliot puts Airman 1st Class Hunter Warren in a choke hold during a training class that is part of a new consolidated curriculum combining the needs of security forces with those of combat-ready deployment forces. Conducted by the 96th Security Forces Squadron, this combined approach is more "combat focused" than traditional law enforcement training and will become the standard for Air Force instruction.
The goal is to ensure security forces are always ready for combat, not just prior to deployment. The program consists of nine days of classroom and hands on training covering physical combat tactics, casualty care, close-quarters combat, and how to use a variety of weapons. The 96TH Security Forces Squadron is headquartered at Eglin Air Force Base in the western Florida Panhandle which serves as the Air Forces' test and evaluation center. The base plans, directs, and conducts tests and evaluation of U.S. and allied air armament, navigation and guidance systems, and command and control systems.
The group provides fuel, supply, transportation, ground combat training, security, communication, personnel, education, family services, lodging, food service, recreation and logistics planning and deployment support to approximately 20,000 military and civilian personnel and 43,000 retirees.
Eglin AFB is named in honor of Lt. Col. Frederick I. Eglin (1891-1937), who was killed in a crash of his Northrop A-17 attack aircraft on a flight from Langley to Maxwell Field, Alabama.