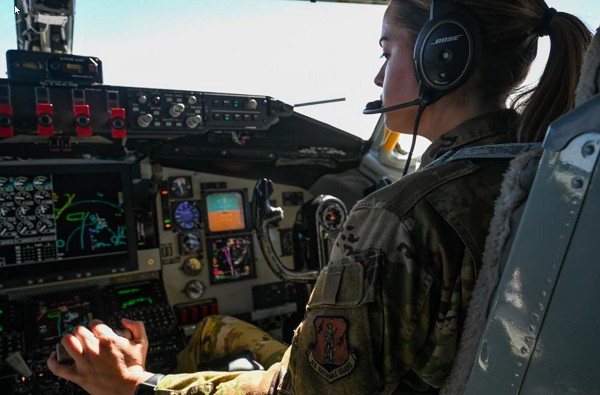 MacDill Air Force Base, Florida. (February 14, 2033): In this photo by Tech Sgt. Diana Cossaboom, U.S. Air Force Capt. Sydney Hultz, a KC-135 Stratotanker pilot assigned to the 91st Expeditionary Air Refueling Squadron, flies the aircraft over the U.S. Central Command area of responsibility. The KC-135 delivers fuel for U.S. and partner nation forces, extending the reach of allied aircraft to the far regions of the world.
The KC-135 Stratotanker provides the core aerial refueling capability for the United States Air Force and has excelled in this role for more than 60 years. Currently, the KC-135 fleet provides aerial refueling support to Air Force, Navy, Marine Corps, and allied nation aircraft. The plane is also capable of transporting litter and ambulatory patients using patient support pallets during aeromedical evacuations.
The 91st Air Refueling Squadron is part of the 6TH Air Mobility Wing that was first activated in January 1941 as the 1st Reconnaissance Squadron at Langley Field, Virginia. Today, these long-range tanker aircraft are capable of refueling a variety of aircraft in mid-air, anywhere in the world, and under all weather conditions.
The tricky part of arial refueling is the delicate dance between approaching aircraft and this flying gas station which dispenses thousands of gallons of aviation fuel in mid-air. The receiving aircraft must maneuver into position behind the KC135 while flying at 30,000 feet and speeds up to 530 mph. The pilot skillfully connects the plane to a special shuttlecock-shaped drogue attached to and trailing behind the flying boom to refuel. Some aircraft have been configured with a multipoint refueling system, which consists of special pods mounted on the wingtips, that allows the KC-135s to refuel two aircraft at the same time.
Through the years, the KC-135 has been altered to do other jobs ranging from a flying command post to reconnaissance missions and is currently receiving improved communications, navigation, autopilot, and surveillance equipment to meet future civil air traffic control needs.