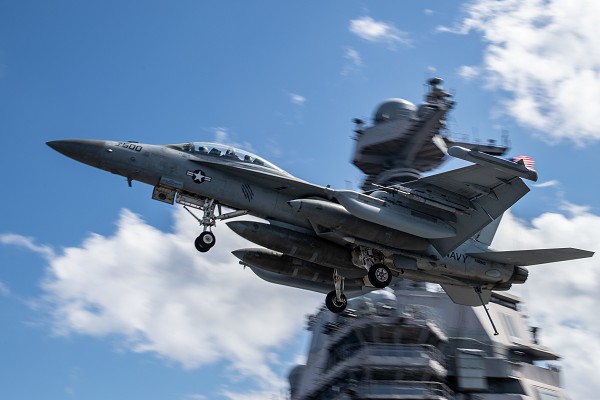 Atlantic Ocean. (March 11, 2023): In this photo by MC2 Jennifer A. Newsome, an E/A-18G Growler, attached to the "Gray Wolves" of Electronic Attack Squadron 142, flies by the first-in-class aircraft carrier USS Gerald R. Ford underway in the Atlantic Ocean. The Ford and her crew are conducting intense, multi-week exercises to fully integrate its carrier strike group into a cohesive, multi-mission fighting force. These exercises will test the ability of the strike group to carry out sustained combat operations at sea.
The first new class of aircraft carrier in 40 years, the Ford represents a generational leap in the U.S. Navy's capacity to project power around the world. The Ford honors the 38th president of the United States, who served from 1974-1977, and pays tribute to his lifetime of service in the Navy and the nation. During World War II, future President Ford attained the rank of lieutenant commander and served on the light carrier USS Monterey.
Today, the Ford has a new nuclear power plant capable of generating nearly three times more electrical power along with modern arresting gear and electromagnetic aircraft launch systems. This new configuration replaces the traditional steam catapult and expands the range of manned aircraft.
The carrier left Naval Station Norfolk to prepare for "national tasking" status or the ability to deploy anywhere in the world ready for combat. To achieve this, the Ford and its crew will test its 80 aircraft in a series of simulated combat situations including aircraft, submarine, and missile attacks while handling ship casualties. If successful, the crew will then deploy for a full seven-months at sea.