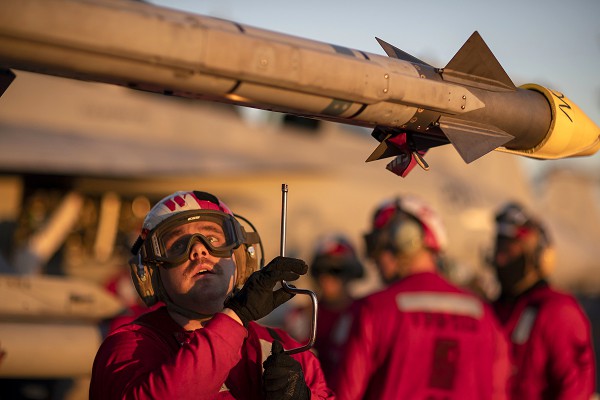 Atlantic Ocean. (March 11, 2023): Easy does it, one slip and that is it. In this photo by MC3 Manvir Gill, Aviation Ordnance man 2nd Class Benjamin Tepe, assigned to the "Black Lions" of Strike Fighter Squadron 213, mounts a missile to an F/A-18F Super Hornet on the flight deck of the aircraft carrier USS Gerald R. Ford. One of the more unique jobs in the Navy, Aviation Ordnance specialists risk their lives daily loading the latest explosives onto America's elite combat aircraft.
Navy Aviation Ordnance specialists are weapons experts charged with managing all types of ammunition carried on Navy aircraft. They inspect, maintain, and repair mechanical and electrical ordnance systems on a variety of aircraft in real time operations. The F/A-18F Super Hornet carries up to 13,700 pounds of explosives on two outboard wing stations including Sidewinder air-to-air missiles and ground attack weapons. The Hornet also has a M61 Vulcan 6-barrel rotary cannon that fires 20mm ammunition mounted on the plane's nose. Every pilot depends upon the skill and bravery of these ammo specialists to ensure their payload is ready to go in combat.
The "Black Lions" Strike Fighter Squadron has a distinguished record of service aboard U.S. aircraft carriers. In the 1960s, the Black Lions flew the famous F-4 Phantom from the USS Kitty Hawk in the Vietnam War completing over 11,500 combat missions.