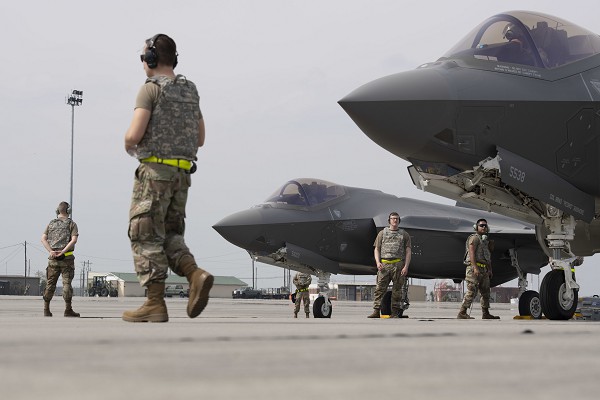 Savannah, Georgia. (March 1, 2023): In this photo by Tech. Sgt. Joshua Edwards, Airmen from the 388th Fighter Wing prepare for two F-35A Lightning IIs for takeoff during Agile Flag 23-1 at the Air Dominance Center in Savannah, Georgia. Agile Flag is Air Combat Command's certifying event for its Lead Wings throughout the Air Force. The nine-day bi-annual exercise involved 10 Airforce units working between the Air Dominance Center and nearby Hunter Army Airfield.

The training was led by the 366th Fighter Wing and included the 4th Fighter Generation Squadron which brought six F35As, the Air Force's latest fifth-generation fighter, to the task. The F-35 replaces the Air Force's aging fleet of F-16 Fighting Falcons and A-10 Thunderbolt II's which have been the primary fighter aircraft for more than 20 years. The conventional takeoff and landing F-35A has the power to dominate the skies – anytime, anywhere. It is an agile, versatile, high-performance, multirole fighter that combines stealth and unprecedented situational awareness.
During Agile Flag, the F-35s used six difference airfields in a scheme of maneuvers designed to test their flexibility and agility in combat. Exercise players simulated physical oppositional forces with well-developed intelligence, surveillance, and reconnaissance capability. Pilots had to contend with constantly changing threats while ground crews adapted their logistics while executing a dispersed base defense. Each unit was challenged by contested logistics, disrupted command control, and interruptions to communications.
The Air Dominance Center at the Savannah Air National Guard Base conducts Air-to-Air Combat Training for 4th and 5th generation fighters for the Air National Guard, Active Duty Air Force and the U.S. Navy and U.S. Marine Corps. The 366th Fighter Wing hails from Mountain Home Air Force Base, Idaho.