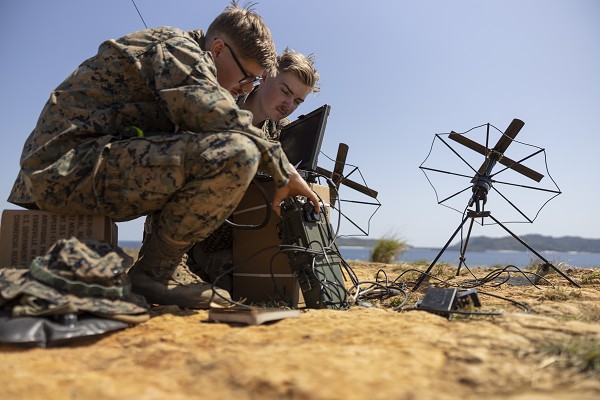 Okinawa, Japan. (March 17, 2023): Your unit is under fire and the enemy is closing in and, without an aircraft strike, you and your comrades are about to be overrun. Thankfully, our nation's warfighters can depend on the skills and daring of a Marine Corps Tactical Air Control Party (TACP) to come to the rescue. In this photo by Corporal Bridgette Rodriquez, Marines from the 31st Marine Expeditionary Unit program a radio for use in ground communications during exercises with Japanese Defense Forces. The Marines and their Japanese counterparts practiced locating and tracking maritime targets under various strike scenarios.
The TACP teams are members of the Special Operations community who imbed with frontline units to call in close air support on enemy positions. The TACP team consists of one officer and one senior NCO who are trained Forward Air Controllers (FACs), and two signalers (junior NCOs), who are responsible for communication equipment and assist in tasking aircraft. A JTAC is defined as an individual with a ground combat arms background who coordinates, integrates, and directs actions of combat aircraft engaged in close air support and other offensive air support operations. In addition to calling in ordnance, the TACP team also requests medical evacuation missions for injured troops and coordinates the approach and landing of rescuing aircraft.
The JTAC-trained Marine deals mainly with offensive air operations of allied aircraft while deployed in a forward position near or actively engaged with enemy troops and equipment. They are qualified to communicate with a wide range of attacking aircraft to direct where to drop bombs, missiles, and bullets while avoiding "friendly" fire.
To become a TACP Team member, a servicemember must be a Noncommissioned Officer or above and must have a combat arms Military Occupational Specialty with one year of operational experience. The candidate must complete the TACP primer, Special Operations Spotter, and the Marine Expeditionary Warfare Training TACP courses before they deploy to front line units.
These courageous troops play a vital role saving lives by directing the accurate and timely delivery of American airpower.