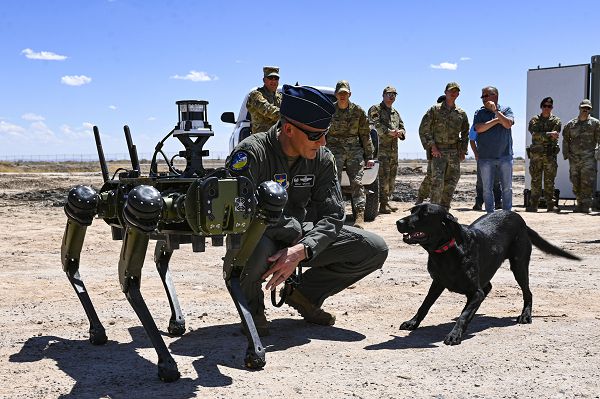 Holloman Air Force Base, New Mexico. (April 17, 2023): In this photo by Airman 1st Class Isaiah Pedrazzini, Col. Justin Spears, 49th Wing commander, introduces his dog, Blue, to a Vision 60 Q-UGV ground robot, a quadrupedal "Dog" capable of maneuvering through rough terrain making it perfect for patrolling Holloman AFB's arid environment. In all fairness to Blue, the Vision 60 has a lot of built-in advantages over man's best friend.
The Vision 60 Q-UGV is a mid-sized, high-endurance, agile, and durable all-weather ground robot for use in a broad range of urban and natural environments. The U.S. military has been aggressively deploying these robotic sentries for defense, homeland security, and traditional public safety applications. Unlike a real dog, the Vision 60 can operate at full speed for over three hours and remain on standby for 21 more while still running its onboard computers, sensors, and radio communications.
Using built-in RGB color recognition and depth sensors, the Vision 60 can traverse any terrain that is navigable by humans. This hound uses this "situational awareness" to negotiate obstacles that would have caused previous designs to "freeze resulting in the robot having to end its mission.
Today's quadrupeds can navigate through tall grass and unknown terrain even when its vision sensors are obscured by mud, rain, snow, or direct sunlight. These units are fully sealed from dust and can be submerged in up to 1 meter of water for up to 30 minutes. In addition to being able to operate in the dirtiest, dustiest, and dampest areas, the Vision 60 can also handle extreme temperatures from -40° F to 131° F.
Like their K-9 counterparts, the Vision 60 Q-UGV can remain fully submerged in water and, like living dogs, it can swim. An early use adopted by the military involves equipping robotic dogs with wireless network-connected cameras and deploying them to patrol military bases.
Using these robotic pooches, the military can deploy unique sensor payloads suited to a variety of intelligence, surveillance, target acquisition, and reconnaissance missions. They can even be used to feed real-time targeting data to battlefield commanders or to take the place of human troops for dangerous missions like explosive ordnance disposal.
While faithful dogs like Blue will always be first in the hearts of man, there is a new top dog in town.