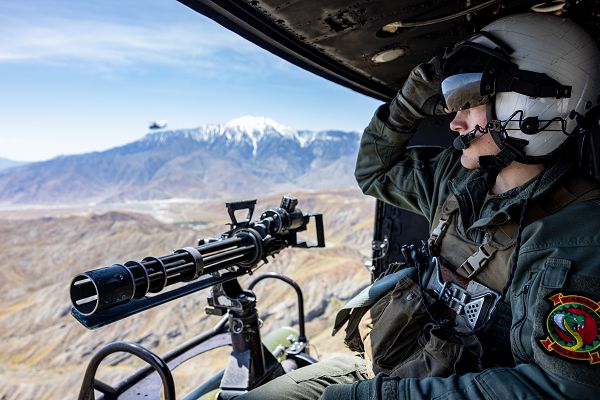 National Training Center, California. (May 3, 2023): In this photo by Lance Corporal Alex Devereux, Marine Corporal Bryce T. Hubbard, a UH-1Y Venom Crew Chief with Marine Light Attack Helicopter Squadron 367 observes his surroundings during a training flight during NTC Rotation 23-07. During the exercise, Squadron 367 supported the U.S. Army 75th Ranger Regiment and the 160th Special Operations Aviation Regiment as the sole rotary wing fire support element for long range assault force escort, close air support, and direct-action raids.
The Venom is one of the newest Marine Corps aircraft to replace the veritable UH-1N Huey which was first introduced in the 1970s. Manufactured by Bell Helicopters, the Venom provides command & control and assault support under day/night and adverse weather conditions. It can reach speeds approaching 190 mph and has a combat range of 130 miles. The Venom sports twin 70mm rocket launchers along with dual mounts for a variety of machine guns including the deadly GAU-17/A gatling gun.
Squadron 367 was commissioned during World War II and participated in combat operations on Peleliu and Okinawa. Reactivated during the Vietnam War, the squadron has served in every American conflict since. These highly skilled crews provide Marine Corps support to our nation's most elite helicopter and special operations forces.

The 160th Special Operations Aviation Regiment, also known as the "Night Stalkers", are assigned America's toughest missions in all environments anywhere in the world. They are most famous for their role in the successful mission to capture and kill Osama Bin Laden.