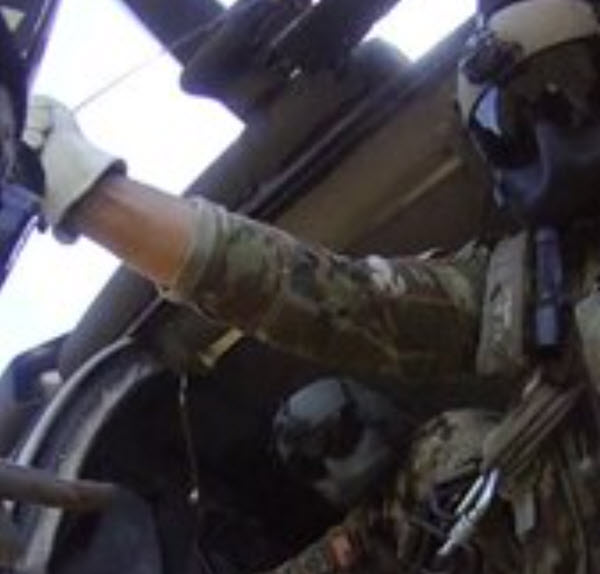 Knoxville, Tennessee. (May 5, 2023): An outing in the wilderness nearly turned tragic for a hunter if it were not for the skill and bravery of a Tennessee Army National Guard Black Hawk helicopter crew. In the photo above, Crew Chief Sgt. Nicholas Kannard prepares to lower flight medic Sgt. 1st Class Tracy Banta to rescue the injured hunter who desperately needed medical attention.
The call came into the Tennessee Military Department and Emergency Management Agency that a person with severe leg injuries needed rescue from a rugged and remote area of the Cherokee National Forest. The 230th Assault Helicopter Battalion of the Tennessee National Guard sprang into action. Flying the versatile UH-60 Black Hawk helicopter, the aircrew arrived at the rescue site within 20 minutes.
The flight crew consisted of two pilots, Capt. Brandon Rodriguez and Chief Warrant Officer 3 Daniel Backus, crew chief Sgt. Nicholas Kannard and two flight paramedics, Sgt. 1st Class Nolan Ogle and Sgt. 1st Class Tracy Banta.
The crew chief, Kannard, lowered flight medic Sgt. Banta to the ground to assess the patient and prepare him for airlift. The patient and Banta were hoisted into the Blackhawk hovering above where additional medical treatment was provided. The rescue took just 13 minutes. Once everyone was safely on board, the aircraft flew to the University of Tennessee Medical Center in Knoxville. The entire rescue mission took less than an hour and a half.
Tennessee's 45th General Assembly established their National Guard in 1887 and history has shown these soldiers are no stranger to dicey situations. More than 3,600 Tennessee Guardsmen served in Operations Desert Shield and Desert Storm, for example, deploying 17 units during the conflict. In fact, Tennessee's 212th Engineer Company, attached to the 101st Airborne Division (Air Assault), has the distinction of being the first unit of the 101st into Iraq and one of the first U.S. units to breach the Iraqi defensive zones.
The Guard continues to protect visitors to Tennessee's national forests, and they can rest easy knowing these highly skilled professionals will be there in an emergency.