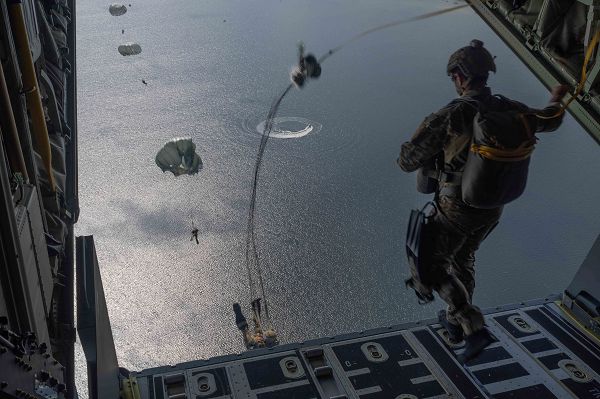 Hurlburt Field, Florida. (May 12, 2023): They go where others fear to go and do what must be done to protect this great nation. They are the Air Force 24th Special Operations Wing. the very cream of U.S. military aviation. In the above photo by Technical Sergeant Jael Laborn, Air Force Special Tactics operators conduct static line jump training during Emerald Warrior 2023, the largest joint exercise involving U.S. Special Operations Command forces each year.
The 16th annual Emerald Warrior exercise was held at multiple locations across Florida and Puerto Rico and featured one of the most sophisticated and versatile aircraft in the U.S. inventory, the MC-130H Combat Talon II.
The Combat Talon II's mission is to infiltrate, resupply, and extricate special operations forces and equipment in hostile or denied territory. Its secondary mission includes psychological operations and helicopter air refueling.
The aircraft features terrain-following radars that allow the Talon to fly "nape of the earth" at altitudes as low as 250 feet, even in adverse weather conditions. Recent changes to the basic C-130 include the addition of a receptacle that allows for in-flight refueling of special operations forces and combat search and rescue helicopters. Its navigation system includes dual ring-laser gyros, mission computers, and an integrated global positioning system that allows the Talon to locate and either land or airdrop on small, unmarked zones with pinpoint accuracy day or night. The Talon is protected by an extensive electronic warfare system that enables the aircrew to detect and avoid potential threats.
The 24th Special Tactics Wing crews train with Army and Marine pilots to become joint terminal attack controllers enabling them to plan, synchronize, and control close air support in special operations missions. Special Tactics is comprised of Special Tactics officers, combat controllers, combat rescue officers, pararescue men, air liaison officers, tactical air control party operators, and combat support airmen drawn from 58 Air Force specialties.
These Air Force Special Operations Squadrons are positioned strategically to respond within minutes to an emergency anywhere in the world.