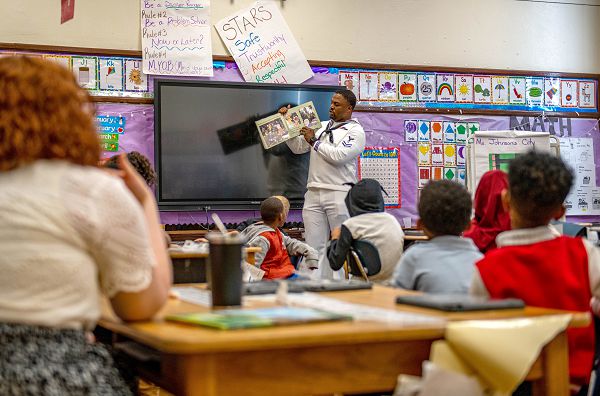 St. Louis, Missouri. (May 8, 2023): In this photo by MC2 Jason Waite, Sailors from across the fleet are in Missouri for St. Louis Navy Week to emphasize the importance of the U.S. Navy to the state of Missouri and to participate in various community events. Navy Weeks is designed to develop a bond between Americans and their Navy and to showcase why today's Navy is important to America's prosperity and its national defense.
This year's event took place at Whiteside Middle School in Belleville, Missouri and featured a command performance by the Navy Band Great Lakes to the delight of the children, their parents, teachers, and staff. The students got a chance to interact with the musicians and ask questions about the types of jobs available in today's Navy.
The Navy Band Great Lakes was formed in 1918 during the final months of World War I. Initially used to sell war bonds, the band soon grew to over 350 Sailors and became what President Woodrow Wilson proclaimed, "the greatest band in the world."
Another local school, Sigel Elementary, was treated to a ceremonial guard display by the Navy's famous exhibition drill team. Established in 1931, the drill team conducts Navy funerals at Arlington National Cemetery for America's fallen.
The Navy invests heavily to connect with their host communities and to promote public support for our nation's Sailors and Marines.