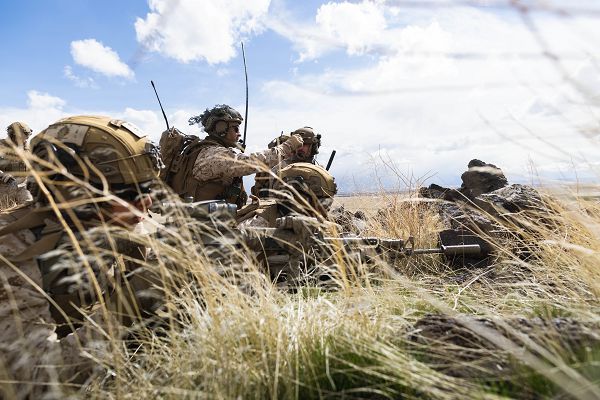 Grasmere, Idaho. (May 8, 2023): When one thinks "Air Force", images of fighter jocks and crisp blue uniforms come immediately to mind. In the picture above by Lance Corporal Juan Torres, Marines from the 1st Marine Division locate their targets alongside Air Force Joint Terminal Attack Controllers at Saylor Creek Range at Grasmere, Idaho. Marines and Air Force personnel teamed up to test their skills in realistic combat conditions during Exercise Garnet Rattler held here recently.
A Joint Terminal Attack Controller JTACs (also called Forward Observers) directs the actions of attacking military aircraft engaged in close air support of Marine units on the ground and they do so often well behind enemy lines. Exercise Garnet Rattler centers around a comprehensive training program to enhance coordination between Air Force joint terminal attack controllers and other Marine Corps personnel involved in ground operations. The exercise involved 11 Marines undergoing advanced training as JTACs in simulated urban terrain using live ammunition and aided by close air support from neighboring units.
The training program included advanced technology, such as the Target Handoff System version 2.0, which allows JTACs to communicate with other units and provide critical information to the ground force commander. Saylor Creek is one of only a handful of firing ranges that can accommodate live fire exercises to hone close air support skills.
To become certified as a Joint Terminal Attack Controller, Marines must pass a rigorous five-week, hands on program presented by the Expeditionary Warfare Training Group. Candidates must be Non-commissioned officers and hold a combat military occupational specialty and have at least one year of experience.
the combat Marine, how well close air support is directed at the enemy can mean the difference between life and death.