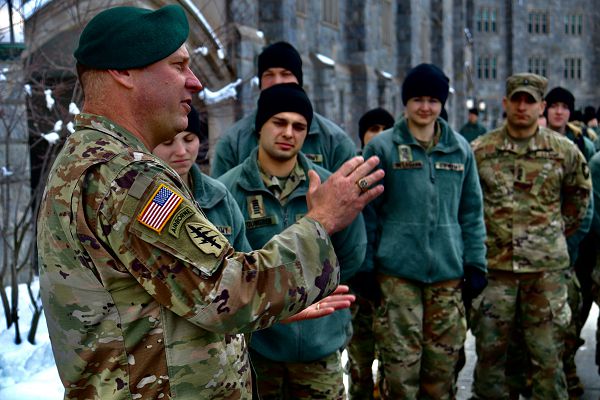 West Point, New York. (May 13, 2023): You can see it in their eyes, a sense of awe in knowing they are in the presence of a real live American hero. In this photo by Sergeant 1st Class Jared Gehmann, Medal of Honor recipient Master Sgt. Earl Plumlee speaks to cadets at the United States Army Military Academy at West Point, N.Y., just one of many stops in a continuous tour of Army posts around the world. MSgt. Plumlee spoke to these future officers about making tough decisions while in combat and the lessons he learned on leadership throughout his military career. Plumlee's story is one of epic struggles to survive and one man's determination to never give up the fight.
Plumlee received the military's highest honor for actions against insurgents who attacked a U.S. outpost near Ghazni, Afghanistan, in August 2013. Plumlee, a weapons sergeant assigned to the 1st Special Forces Group (Airborne) was outnumbered and armed with only a pistol when he took on 10 heavily armed insurgents. In a series on daring maneuvers, Plumlee advanced on the enemy again and again braving heavy fire including several grenades.
Although injured when an insurgent detonated a suicide vest, Plumlee nevertheless had the composure to run amid insurgent fire to rescue a fellow soldier and carry him to safety.
His coolness under such horrendous conditions is the hallmark of American courage and he deserves our nation's highest honor and respect.