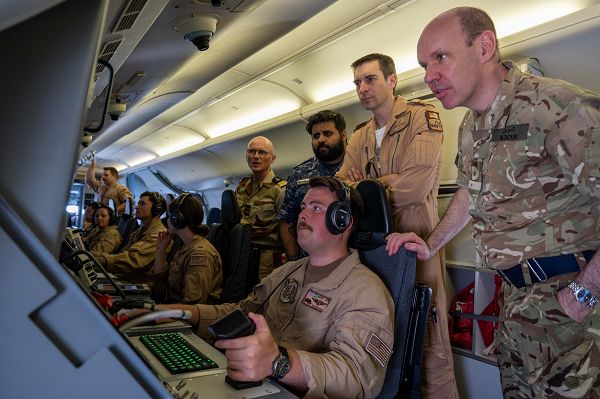 Strait of Hormuz. (May 14, 2023): In this photo by MC2 Jacob Vernier, naval personnel from Bahrain, France, United Kingdom, and United States conduct a multilateral patrol aboard a U.S. Navy P-8A Poseidon aircraft over the Strait of Hormuz. Tensions are rising in the region due to attacks on commercial shipping by the Islamic Republic of Iran. For a second time this week, the Islamic Revolutionary Guard Corps Navy seized another oil tanker in an escalation of attacks on privately owned ships operating legally in international waters. These illegal detentions threaten the freedom of navigation in this vital waterway, the choke point through which one fifth of the world's oil flows.
The task of protecting free navigation through the Strait falls to the formidable U.S. Navy's 5th Fleet, based in Bahrain. One of the key tools to monitor air and naval traffic in the Strait is the Boeing P-8A Poseidon. This is the latest maritime patrol and reconnaissance aircraft produced by Boeing Defense, Space & Security, for the United States Navy.
The Poseidon is a multi-mission aircraft used for maritime patrols to monitor vessels on and below the surface. Its design is based on the commercial Boeing 737-800 fuselage that has been substantially modified to include a weapons bay, increased electrical generation capacity, and strengthened wings for military operations.
The Poseidon has modern surveillance sensors, electronic counter measures, and a suite of radios, data links, and satellite communications gear. With a fuel capacity of almost 34 tons, the Poseidon can remain on station as far as 1,200 miles from base.
It is armed with torpedoes and Harpoon anti-ship missiles and can drop and monitor sonobuoys to detect enemy submarines. The Poseidon also deploys the Northrop Grumman MQ-4C Triton maritime surveillance unmanned aerial vehicle.
Today, the Poseidon is operated by the United States Navy, the Indian Navy, the Royal Australian Air Force, the United Kingdom's Royal Air Force, the Royal Norwegian Air Force and the Royal New Zealand Air Force. It has also been ordered by the Republic of Korea Navy, and the German Navy.
These multinational patrols are a symbol of the world's determination to enforce laws of free navigation of the high seas.