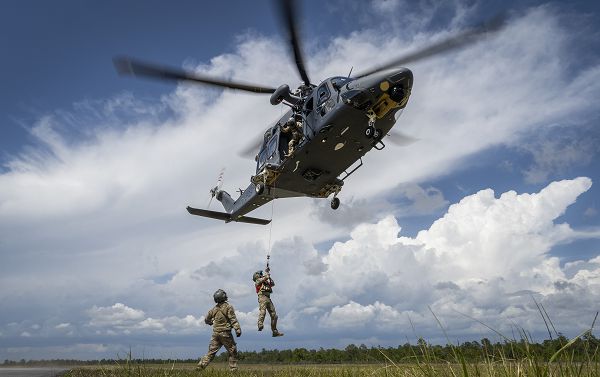 Eglin Air Force Base, Florida. (May 18, 2023): In this photo by Samuel King, Jr., an MH-139A Grey Wolf lifts an Air Force Global Strike Command Detachment 7 special mission aviator into the air as part of live hoist testing of the Air Force's newest helicopter. The 413th Flight Test Squadron and Det. 7 worked together to successfully complete a series of critical performance tests on this latest in utility rotary wing aircraft.
The Grey Wolf replaces the venerable UH-1H Huey, our nation's most rugged utility helicopter since the 1970s. The Grey Wolf flies 50% faster and has greater range than the Huey and can lift 5,000 lbs. more payload. Built by Boeing, the Grey Wolf can handle multiple roles ranging from protecting U.S. ballistic missile sites to transporting government officials and security forces. Today, its chief job is patrolling the US arsenal of land-based ICBMs and the bases that support these missile-laden silos.
To join the Air Force fleet, the Grey Wolf had to pass the rigorous testing program of two of the most unique units in the U.S. military; the 413th Flight Test Group and the Air Force Global Strike Command. One group is dedicated to sophisticated flight-testing methods and the other provides the pilots and special mission aviators.
The 413th, based at Robbins Air Force base, Georgia, is the Air Force's only dedicated rotary test unit that conducts flight evaluations on aircraft being considered for acquisition. The group is a partnership between the Air Force Materiel and the Reserve Commands that supervise all flight test. The unit includes five squadrons made up of 140 full-time Airmen, 78 traditional reservists, and nine civil servants.
The 413th has a colorful history dating to 1944 when the Group flew long range escort missions of B-29 Superfortress bombers attacking Japan. During the Cold War, the unit was a Strategic Air Command fighter-escort wing and later under Tactical Air Command as a fighter squadron in the 1950s. Today, the group's units are stationed throughout the United States to help conduct functional flight tests.
The Air Force Global Strike Command, Detachment 7, is the direct descendant of the Cold War–era Strategic Air Command (SAC) and its mission today is to provide security and support for the nation's intercontinental ballistic missile fields in Wyoming, Montana, North Dakota, Colorado, and Nebraska. The Strike Command contributed pilots and flight technicians to the evaluation of the Grey Wolf which is now the Air Force's standard in utility rotary aircraft.