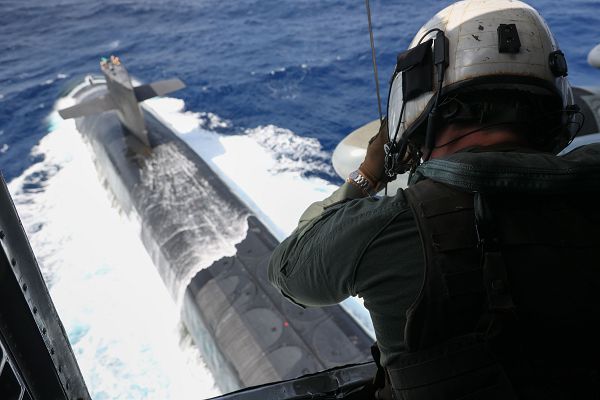 Philippine Sea. (May 17, 2023): In this photo by Lance Corporal Emily Weiss, Staff Sergeant Joseph McDonnell, a crew chief with Marine Heavy Helicopter Squadron 462, 1st Marine Aircraft Wing, III Marine Expeditionary Force, lowers a package to the Ohio-class ballistic missile submarine USS Maine during a vertical replenishment at sea. These airborne deliveries enable naval vessels to quickly take on vital supplies without interrupting maritime operations.
This at sea replenishment is a key factor in the Marine Corps "Stand In" concept of positioning its forces in wartime. The strategy is to devise ways to deploy and sustain forces as close to the enemy as possible. America currently has 14 Ohio Class nuclear submarines in service and another four converted into conventionally armed guided missile boats. These subs carry up to 154 Tomahawk cruise missiles and also serve as motherships for special forces.
Also known as "Boomers", these submarines can be loaded with up to 20 Trident II ballistic missiles each with multiple independent warheads. The Navy's various classes of submarines can host of a variety of missions including stand-off strikes, intelligence-gathering, and discrete infiltration/extrication of special operations troops.
The ability to supply these vessels to resupply submarines while underway is critical to American combat success.